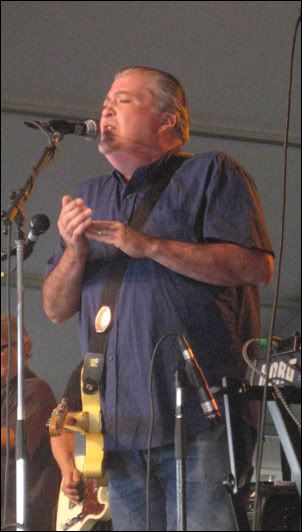 No other band suffers such a disparity between their widely perceived "one hit" and their actual creative prowess as Los Lobos. It's still one of the great misconceptions in rock and roll: while Los Lobos' albums Kiko, Colossal Head and Good Morning Aztlan rank amongst the most invigorating and exciting listening experiences of the last fifteen years, drunk accountants in Cabo Wabo T-shirts at the Marin Fair last night still yelled for "La Bamba."
"Not yet, man," countered Cesar Rosas, no doubt resigned to the request by now. "If we play it, you'll all leave!"
No true Los Lobos fan really gives a damn about hearing "La Bamba"—I've seen them twice before, and they didn't play it, and no one asked for their money back. But a County Fair is a different story altogether, and Los Lobos knows this. So you've gotta hope that the old trick worked; namely, saving the payoff until the end, while in the meantime providing a look into one of the great catalogs of American music.
I, for one, am completely enamored of Los Lobos, which puts me in the company of bugeyed ex-Deadheads, aging Latino expatriates from L.A., and Sierra Nevada-swillin' dudes with hairy shoulders. So be it. I love Los Lobos fans, if only to imagine them crawling into work the next morning, bedraggled in the best possible way, while their coworkers chug lattes and try to out-chipper each other with peppy chitchat.
Indeed, the large tent at the Marin Fair—on an island in the middle of a man-made lake—was packed with people preparing to feel like crap the next day. Dancing, swaying, drinking, singing along, and having the time of their life on the ever-festive last night of the fair. At certain moments, such as the ferocious three-way soloing pinnacle David Hidalgo, Cesar Rosas and Louie Pérez achieved in "That Train Don't Stop Here," it felt like the entire tent might explode.
Other highlights included "Short Side of Nothing," "The Neighborhood," "Kiko and the Lavender Moon," and "This Time"—the latter of which Hidalgo started, then looked puzzled for a second, and finally asked the crowd, "Hey. . . who knows the first verse?"
If I'm not mistaken, the band played nothing from Colossal Head nor Good Morning Aztlan, but it didn't matter—they're so good live, and so dependent on how they play, that it's somewhat negligible what they play. A few cumbias, a long blues jam, some newer songs, a guest saxophonist, and hey, they still rule.
If there's any shrug to be had with the set, it's that it was almost identical to the last time I saw Los Lobos, an entire five years ago. Then as now, covers included Traffic's "Dear Mr. Fantasy" as well as a sing-along of Buddy Holly's "Not Fade Away" segueing into the Dead's "Bertha," which sent the twirl brigade off and spinning on the fringes of the island.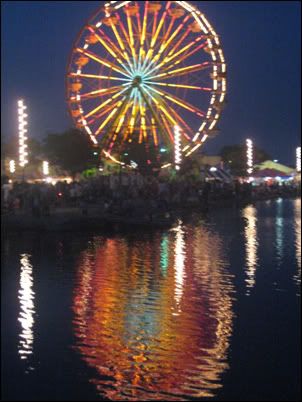 But it was the final cover of the night that really lit people up: an encore of "La Bamba." I made my way around the crowd and saw nothing but smiling, laughing, and getting down; and to my surprise, the aforementioned drunk accountant knew every Spanish word of the song. When Los Lobos seized on the chord progression and interpolated the Young Rascals' "Good Lovin'," the place went nuts. How can you argue?
I got a Philly Cheesesteak sandwich, watched the fireworks, rode the Merry-Go-Round, and then walked along the railroad tracks, to the rhythm of the bassline of Colossal Head's "Revolution," stuck in my head, back to my car.
(P.S. Steve Berlin, if you are reading this—I've always wanted to ask if you've got any idea whether Lee Allen intentionally quoted both "Andalucia" and "Across the Alley from the Alamo" during his saxophone solo for "Roll 'Em Pete" on the Blasters' live EP, Over There, or if it was merely a musical accident. I'm totally serious—it's plagued me for over ten years. Any clue?)