The closest thing we get to a football pool around here at the Bohemian offices is our annual "Art at the Fair" pool. Or, to be more precise, we take bets on how many photographs of the Golden Gate Bridge there will be in the "fine art" pavilion in E.C. Kraft Hall at the Sonoma County Fair.
This year, we expanded on the idea. Gabe started the betting by predicting there would be five, count 'em five photos of the Golden Gate Bridge. Sara's prognosis was that at least one of them would have a ribbon, and Gary went out on a limb by betting there'd be a series of Golden Gate Bridge photos—that is, more than one photo in the same frame—and furthermore, that one of the photos in the series would be a close-up of one of the bridge's huge cables.
The totals:
Six, count 'em six photos of the Golden Gate Bridge.
Three photos of the Golden Gate Bridge with ribbons.
One series, titled "The Many Faces of the Golden Gate Bridge," featuring three photos.
No closeups of the cables though. We still think Gary wins. And in a notable tangent, there were three paintings of the Golden Gate Bridge.
Kraft Hall enthusiasts can each year also count on. . . a pencil drawing of a famous celebrity! In the past, charcoal likenesses of Michael Jackson, Eminem and Marilyn Manson have graced the walls. What could it be this year? Let the betting begin! Gabe predicted Zac Efron, Sara guessed Obama and Gary went for Ian McKellan as Gandolf.
Alas, none of us were correct. Still, no one could have guessed there would be this impressive portrait, by Roger O'Meara, of Clarence "Gatemouth" Brown:
And I was especially amazed to find a painting by Heidi Snowden of my personal celebrity, Juanita Musson, who owned a series of restaurants in Sausalito and the Sonoma area in the 1950s-1970s: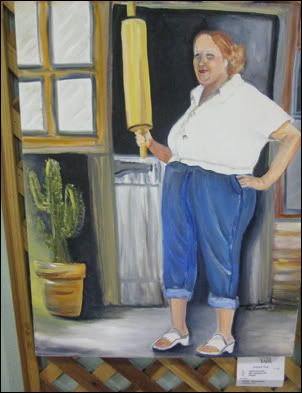 Juanita's favorite two phrases were "pour your own coffee!" and "eat it or wear it!" Diners who left food on their plate would find themselves chased out into the parking lot, where Juanita would viciously chuck the plate of leftovers at their head. My kinda gal. There's an excellent book by Sally Hayton-Keeva about her life in restaurants, and anyone interested in the way restaurants ought to be operated should read it.