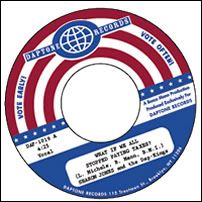 Me and my friends completely lost our minds when we first heard Sharon Jones' version of the Woody Guthrie anthem "This Land Is Your Land," somewhere around 2004. It showed up as the B-side on a 45 called "What If We All Stopped Paying Taxes?" and it turned the hokey campfire sing-a-long into a minor-key floorbuster funk track. Suddenly, the song that we'd stopped paying attention to was resuscitated, the lyrics imbued with a new meaning, the power of the message restored. We all bought copies.
Even stronger was the forthright message from the band about the record, which was released specifically for the 2004 election:
We believe that our country has been hijacked by oil moguls, war profiteers, overfed corporations, and other assorted amoral billionaires. We refuse to believe the stories that they feed us through corporate owned and run media sources in their efforts to keep us in a state of fear and hate. We will resist the endemic apathy that allows them to use our hard earned tax dollars to fun illegal wars with dubious intent while here at home our education system is going bankrupt and our healthcare and social services are virtually nonexistent. We oppose the recruitment of our brothers and sisters from the poorest neighborhoods in the country to fight a badly planned and managed war that will only benefit the extremely wealthy. Though we are proud to be citizens of this country, we consider ourselves first and foremost to be citizens of the world. We believe that this land is our land, and that this land is your land.
-Sharon Jones, the Dap-Kings, and the entire Daptone Family
Damn. Short, quick and to the point. And just like that paragraph extrapolated a deeper meaning out of the overplayed song, so the arrangement considered the more sinister side of this land and those who run it.
[display_podcast]
The Daptone beatheads must have been bugging out over "This Land Is Your Land," too, because the track later showed up on Jones' flawless second album Naturally (do yourself a favor and buy it now, for real). In 2005, after Bush was re-elected, the song might have lost a little of its original purpose, but none of its spark.
Today I went to the movies and watched Up In The Air—a great film—and was elated to hear the familiar horn intro of "This Land Is Your Land" right at the start of the movie. Jason Reitman has done a wonderful thing with Sharon Jones' recording, using it to highlight aerial shots from around the county of crop circles, city skylines, rivers and a cloverleaf ribbon of highway just as Jones sings the words "ribbon of highway." Wonderful opening credits that brought all the song's power rushing back.
Up In The Air is about a lot of things, but its central plot revolves around unemployment—basically, the fallout from eight years of our country getting really, really off track. Sharon Jones' "This Land Is Your Land" is just one of many extremely well-placed bricks in a film of perfect structure that says a lot about how we live now, in the aftermath. (It also features Cut Chemist and Young M.C. in a thoroughly enjoyable cameo. And, you know, Clooney.) I'll be rooting for it on the red carpet, and congratulations to Sharon Jones for the opening credits of the year.