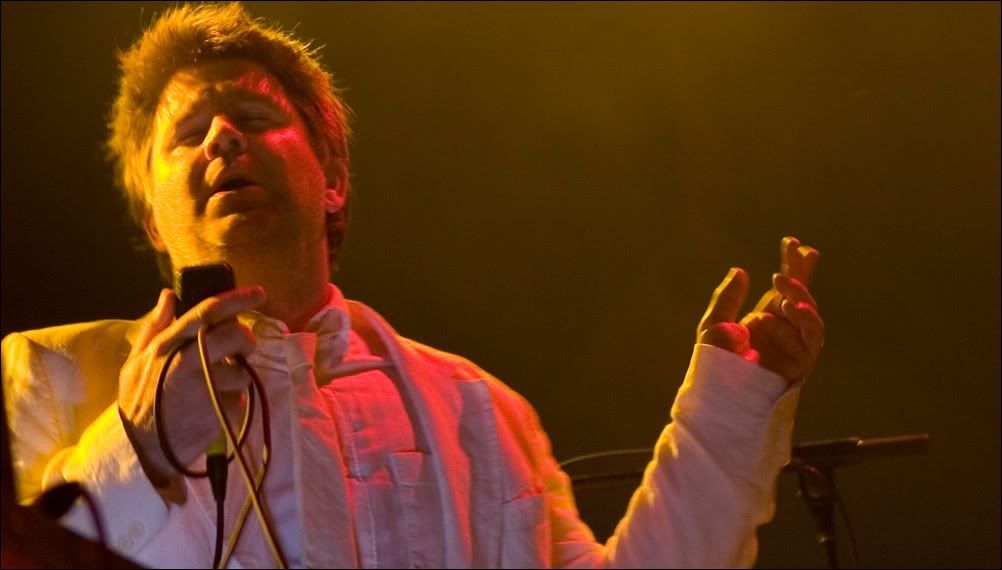 I've got a theory and the theory is this: No matter how early you try to arrive at the ballpark to catch the shuttle to Treasure Island, you will always get to the festival three seconds after the band you'd sell your left kidney to see takes the stage. Bridge traffic, shuttle lines and unexpected delays crop up every year. That's a better scenario than missing your favorite band entirely, but it's nonetheless sweat-inducing—even in the type of bone-chilling weather which this year finally decided, after three Treasure Island Music Festivals benevolently spared the San Francisco cold, to rear its oceanic head.
Yes, it was cold. And yes, two of the must-see acts of 2010, Die Antwoord and Superchunk, played at relatively early time slots, which surely was a strategic move on the festival organizers' part, I imagine, to beef up the crowd in the early hours. Both acts could have more played a few slots up on the bill, and that's not accounting for taste—just demand. Likewise, Deadmau5 probably should have headlined Saturday, because a gigantic sea of neon-clad pacifier-wearers with goosebumped bare midriffs bailed for the warmth of the shuttles before LCD Soundsystem.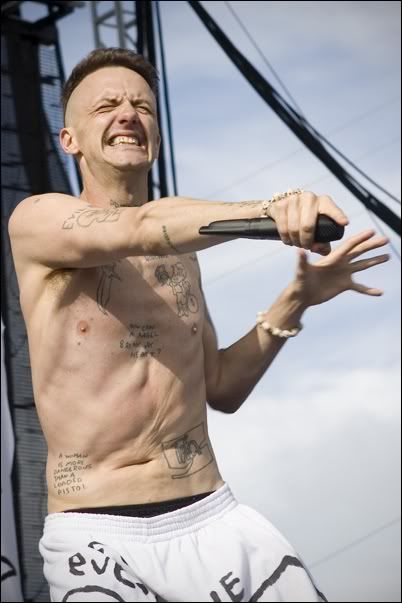 For having been debunked as the Borat of all viral hip-hop jokes in 2010, Die Antwoord is insistently entertaining. Not too many rappers quote Cypress Hill and Ren & Stimpy in one breath while in the next, freestyling a couple lines about wiping his ass with a shirt someone threw on stage while actually wiping his ass with a shirt someone threw on stage. Juvenilia reigns, with stagediving, mooning the crowd and false appendages. Both Ninja and Yo-Landi really need to eat some food, but the fact that I still have their hooks in my head three days later tells you something about the success of their gimmick.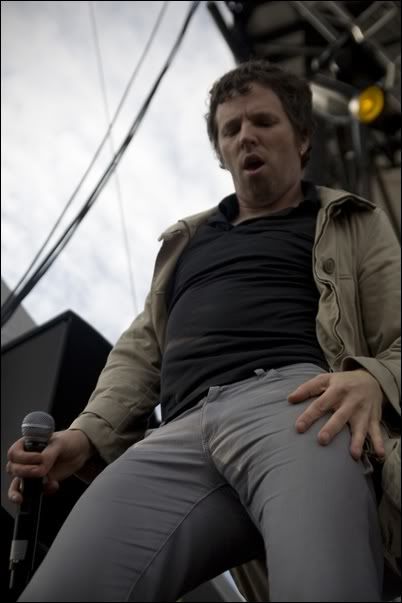 Nic Offer, singer of !!!, sings with his fly open! I am thrilled to finally see this band after too many missed opportunities. "You know where we played last night?" Offer offers. "Tokyo! That's right! Friday night Tokyo, Saturday San Francisco. Three hours sleep, baby!" With LCD Soundsystem here too, the spirit of Jerry Fuchs lingers. Thanks for "Heart of Hearts" and "Must Be the Moon," guys.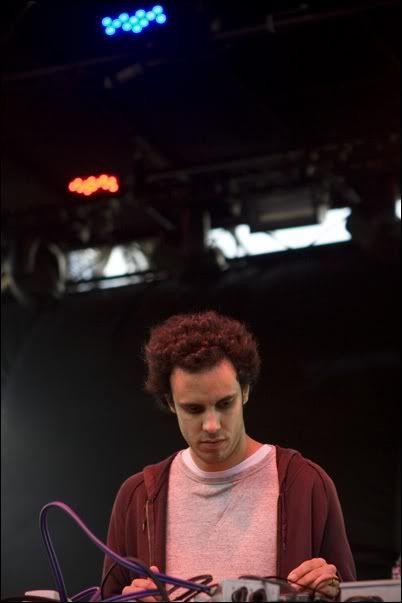 During Four Tet's set, I finally have my brush with fame: The two guys handing out the "Thank You" stickers. Every fourth person I see has one stuck to their clothes, foreheads or breasts. Mid-dancing, they speak to me in body language which asks, "Hey man, do you want a 'Thank You' sticker too?" I respond with body language that says, "Yeah, here, lemme peel one off your roll there." They both wag their fingers as if to say, "No way," then one of them peels off a sticker and slaps it on my sweatshirt himself. They continue dancing. There is a man in a full-body green suit crowdsurfing. The sun is setting. Four Tet is a little less pastichey and more fluid than when I saw him last, four years ago, after Everything Ecstatic. This is not all that bad.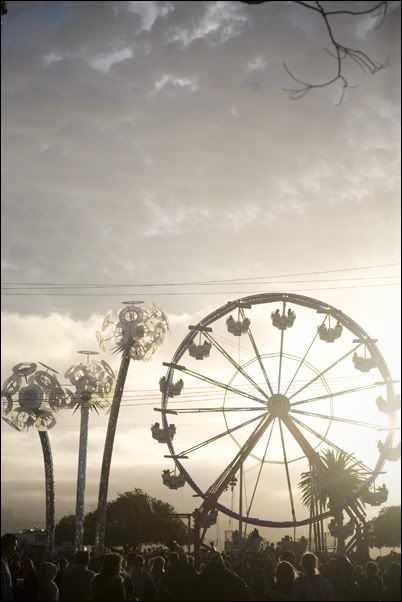 Somewhere in there between Kruder & Dorfmeister and Deadmau5, the news comes in: The Giants had beaten the Phillies in Game 1 of the NLCS. This fact is incredible to the point that stray fans shout things like "Cody Motherfucking Ross!" and random strangers jump up and high-five. Entire portions of the crowd chant "Let's Go Giants!" The timing is good. I find a Fountaingrove Round Barn T-shirt on a hipster vintage rack in one of the clothing booths. Back near the port-a-potties I watch a gate-crasher hop the fence and sprint into anonymity. My best friend gets engaged. Okay, okay, that actually happened the night before. But still. Love is in the air.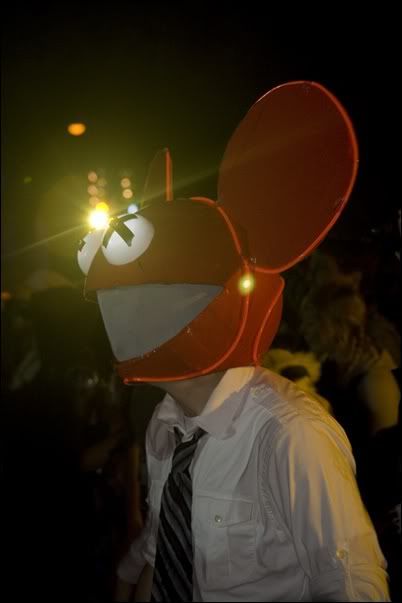 "Deadmau5 Suck5," my newly-engaged friend texts, but it's not true. Deadmau5 is just there, the neo-house flavor of the year with an overboard, impressive light show owing buckets to Daft Punk. This happened two years ago, and it was called Justice. Where is Justice now? Replaced, it seems, by a DJ who hates DJs in a mouse helmet who lifts Chris Isaak's "Wicked Game." I'm not on the right drugs, but for 45 minutes, Treasure Island is a solid, teeming, unified mass.
Watching Miike Snow is a nice change of pace from the phenomenon of Deadmau5. They're shrouded in blue lights and a constant billow of fake fog (when, honestly, real San Francisco Bay fog could very nearly fill the role just fine). They're from Sweden. This fact is helpful for copy editors when cursing their name, but doesn't solve the whole puzzle. I suspect Miike Snow likes it that way. "Animal" sounds perfect in the dark.
To answer your question, yes, LCD Soundsystem does open their set with "Dance Yrself Clean"! Along with "Drunk Girls," "I Can Change," "You Wanted a Hit" and "Home," This is Happening is well-represented. "All My Friends" is the hands-down jam. "Yeah." Admirably, every sound on their recordings is replicated by one live instrument or another, and James Murphy can absolutely sing those falsettos live. Honestly, they could play all night, but when 10:50pm rolls around it's time to pull the plug. "We don't make the rules," explains Murphy. "We're not the cops."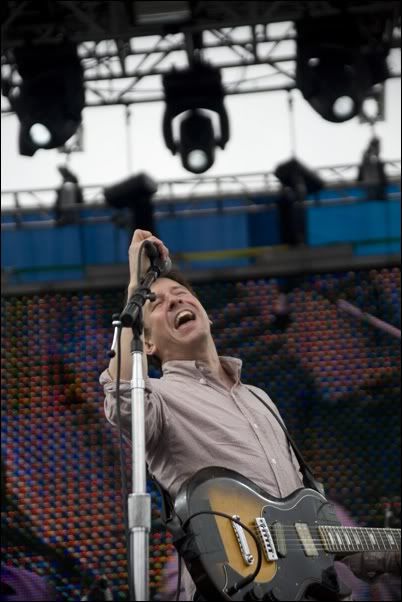 Superchunk rules Sunday. I resist the phrase "showin' 'em how it's done," but in Superchunk's case it truly applies. No band at the festival is as punchy and energetic, but punchy and energetic are only tips of the equation: Vitally, Superchunk actually plays as if their music is important. Almost every other band playing today glosses over with that same lame rock-guy detachment that ruined the 1970s. In fact, with the rain, everything seems downright gloomy on Sunday after Supserchunk. They have every right to rest on their laurels, but instead they flail, pounce and thrash through such a damn fine set. Starting with "Kicked In"? BOLD. "Water Wings," "Throwing Things," "Detroit has a Skyline," "Hyper Enough," "Precision Auto," it's all in there.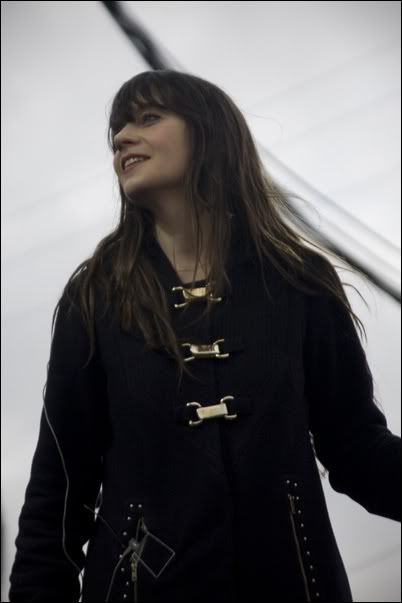 It's sad that Zooey Deschanel reminds me of Taylor Swift, but the facts are that like Swift, she's cute and she doesn't always sing on key. No one cared when Kurt Cobain didn't sing on key, but Deschanel is going for an altogether different, which is to say retro, thing. She & Him's 50s girl-group-by-way-of-Patsy-Cline schtick, female backup singers and all, relies on polish and technique, neither of which Deschanel has in spades. If it weren't for the indie cred of M. Ward, who once made wonderfully strong, eloquent records before hopping on this confusing side project, I doubt many people would take the band seriously.
Monotonix: Bringing the DIY basement show to music festivals since 2008.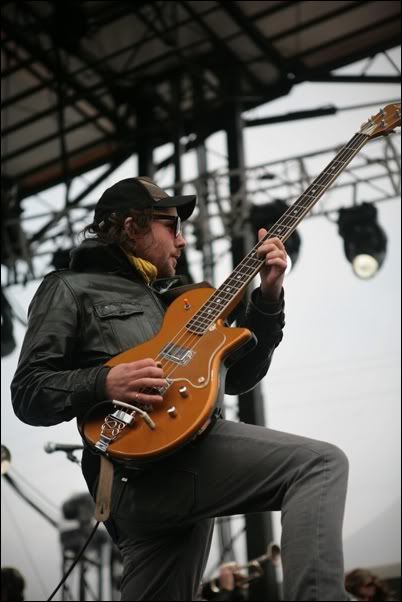 Two temper tantrums into Broken Social Scene's set, a friend compares Kevin Drew to Axl Rose and chuckles; said friend loves Axl Rose and all his shortcomings. But I can't digest it, not since seeing Drew and the rest of the band in much better, triumphant, E-Street-Band-like spirits just a year ago. It's not just the weather, which is gloomy enough. Brendan Canning violently throws his guitar to the ground. Drew makes a pissy comment about how when you play as many shows as he does, you get accustomed to the sound being perfect. Wrapped in leather and shades and heroin-like detachment, he drops his own guitar mid-song to wander around the stage, invading other people's instruments. They play "Almost Crimes" and "Anthem for a 17-Year-Old Girl" from You Forgot It in People; "7/4" and "Ibi Dreams of Pavement" from S/T; and the rest is from their new record, but they're not feeling it, and neither is the crowd. Just an off day, I hope. The cold wind and cold vibes take their toll, and we head out.
More photos below – All photos by Elizabeth Seward.