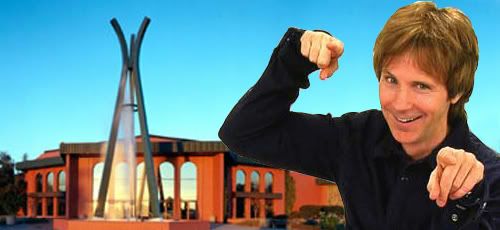 "I told my agent, look, if I'm gonna do an HBO special. . . it's gotta be in an old church near the freeway by Rohnert Park!"
Is Dana Carvey really 52 years old? The nimble little guy who bounced all over the stage last night, unreeling rapid-fire impersonations and quick-witted jokes? Really?
For the most part, the adoring, sold-out crowd last night would have never guessed it. In youthful spirit, Carvey delivered fast-paced marathon descriptions of "the kind of religion that a Scientologist would find weird" (must be seen to be believed) and a spot-on impersonation of Andy Rooney firing up a fat joint and ruminating at stoner's length on the exact meaning of the phrase "you're shitting me."
And yet Carvey, who appears to be in great health, spent a good portion of his set in older-man's land: keeping one's body from deteriorating, developing an "S"-shaped posture, performing special exercises for getting up off the toilet. This resonated with a crowd whose average age matched his, and when Carvey compared the music that "kids listen to these days" (a typical death metal impersonation with the growled lyrics "You're gonna die, you puny little bitch / I'm gonna skin you alive and wear you like a hat") to his generation's music—the Beatles and Neil Young—the audience roared their approval.
Repeated concessions to age aside, Carvey last night was the same masterful comedian who most know from his Saturday Night Live days, almost 20 years ago.
Carvey's slam-dunk impersonations alone were side-splitting, not least of all because he himself seemed to be having such fun doing them. He repeatedly cracked himself up in the exaggerated mannerisms of Deepak Chopra, Al Pacino, Tom Cruise and Jimmy Stewart. His famous Ross Perot and George Bush, Sr. impersonations drew wild applause in an athletic free-for-all called the "Reagan Oracle," a fantasy scenario wherein Ronald Reagan, in 1988, assigns the presidency for the next 20 years—Al Gore, John Kerry, John McCain, Dick Cheney, Arnold Schwarzenegger, Bill Clinton ("the horny one") and George Jr. ("the drunken one with the coke problem") all made hilariously accurate appearances.
Lots of comedians in the last few years have stated outright that they won't do George W. Bush material—it's just too easy, they say. But Carvey dove right in, expertly aping the failed president's garbled speech and smug self-satisfaction, the kind of comic brilliance that isn't easy at all. Followed by an inspired routine where Kim Jong Il grammatically diagrams Bush's tumor-riddled sentences, it was a perfect example of why Carvey films HBO specials instead of YouTube clips.
Carvey didn't outwardly take sides on the current election, but let's add it up: he made fun of Hillary Clinton's bulging eyes, large cheeks, incessant pantsuits, and droning speeches, and he had Bill Clinton pleading sympathy for the Lewinsky affair because, "I mean, take a look at my wife!" He was much less vicious to Barack Obama, about whom the harshest line he could muster was that the Illinois senator looked "like a cross between the Mad Magazine guy and Urkel."
This no doubt rankled some Hillary supporters, but it wasn't an entirely irresponsible treatment; that'd be saved for later, when Carvey gave a groan-inducing monologue about keeping sex hot after 25 years of marriage to his wife. "You've gotta speak her language!" he instructed, simulating sex with dirty talk built around domestic chores like doing the dishes, carpooling the kids, and getting the mail. Lame.
Carvey was at his best in off-the-cuff moments, like when he dropped the microphone and it stopped working ("I'd like to thank Showtime!" he immediately quipped) or when he assumed a sprinter's stance to receive the replacement microphone from the wings, following with TV-announcer Olympic Games-style commentary on his second attempt ("same joke, same position, 3.2 difficulty").
This on-the-spot ability spilled into an encore where he singled out a couple in the audience, collected some background info, and sang an impromptu guitar love song, "Take Me, Winery Man," to Dick and Ellen. (Dick Arrowood, by chance?) A gracious Q&A with the audience followed, with Carvey patiently answering questions, mostly about the old days ("Do you miss SNL?" someone dorkily asked, to which he shot back, "Do you miss high school?").
An old neighbor of Carvey's from Montana introduced himself, and Carvey could barely contain his excitement ("Mr. Davenport! Oh my God, I got laid in your poolhouse!"). At other questions, he beatboxed, impersonated John Lennon, and joked about someday making Wayne's World III: The Viagra Chronicles.
When asked why he chose Santa Rosa to tape the HBO special, Carvey heaped praise on the people and the intimate theater. A resident of Marin County, he flipped when a couple people started chanting "Sebastopol!" and holding up peace signs. "That is definitely a healing-crystal, hemp-watch, spirulina-bar neighborhood!" he howled.
And of course, the Church Lady made a few appearances too. There's now a Church Lady slot machine, believe it or not, and Carvey finished the night with a great story about walking through a casino, noticing a lonely guy playing a Church Lady slot machine, and not being able to control himself."I don't usually do things like this, ever," he explained to the crowd, "but I crept up behind the guy and whispered in his ear. . ."—in the Church lady's famously pious voice—". . . Jesus doesn't like what you're doing!"
Carvey returns for a second show tonight. It's totally sold out.