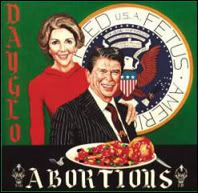 Al Quint, publisher of Suburban Voice 'zine and host of Sonic Overload Radio, posts this downloadable "Tribute" to Ronald Reagan. Originally aired in 2004 the week of Reagan's death, the show undertakes the mammoth task of compiling definitive punk songs about how much Reagan sucks. There must have been two thousand. Quint picks 60 of them.
The show runs the gamut, from DRI's hyperfast "Reaganomics" to the Violent Femmes' "Old Mother Reagan," and we even get Heaven 17's "(We Don't Need This) Fascist Groove Thang" near the end. It's amazing to revisit all the methods used in the '80s to talk shit about the president, like the sudden tacking on of the line "President Reagan can shove it" after a song about trying to get laid ("Superficial Love," TSOL) or the ridiculous adding of the prefix "Mc-" to select words in the Dayglo Abortions' "Ronald McRaygun." Most bands, like NOFX ("Reagan Sucks"), go the simple route.
Sixty punk songs about how much Reagan sucks. Now please, help me out: Why weren't punk bands this vociferous about W., who from the onset was far worse in the eyes of the punk community? Were they scared? Numb? Trying to sign to Victory? It's always confused me. There was Fat Wreck Chords' Rock Against Bush series, but the tracklisting—especially on Vol. 2—reveals bands repurposing older, non-Bush related songs. "Chesterfield King" never was political song, just like "Fucked Up Ronnie," by D.O.A., isn't much of a love song.