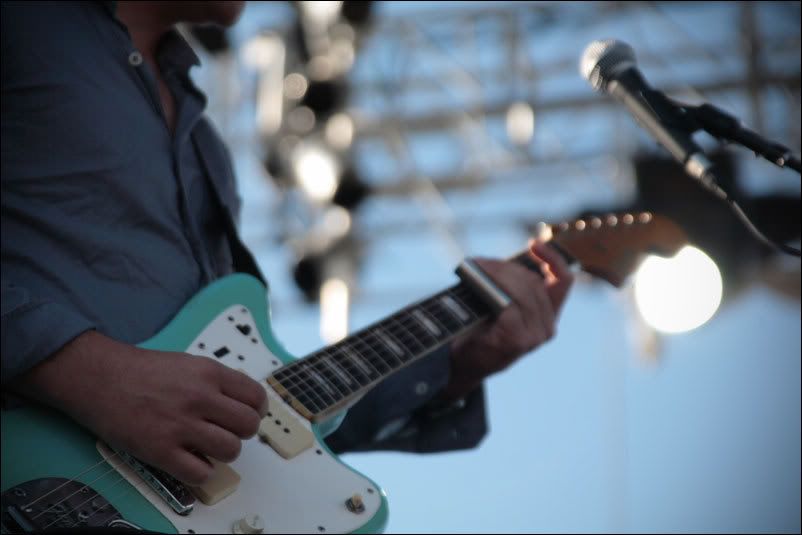 Note to all other festival promoters: please find your festival manual. Turn to the page that says "Treasure Island Music Festival." Rip the page out. Study it. Apply.
In the past, I have been a harsh critic of the untamed proliferation of music festivals. There are now more festivals than ever across the country, and in my opinion, the fans generally lose while the bands and promoters win. Maybe festivals are fun if you don't care about music, but for the most part, the more of a fan you are, the more being at a festival seems like work.
The Treasure Island Music Festival is different. It's in a picturesque location, and it's small enough to be manageable. You don't need to worry about claustrophobia, or running from stage to stage to catch your favorite bands, or trying to find parking.
Another refreshing feature, which cannot be overstated in this world of SafeCo Field and Petco Park and Brought To You By Miller Genuine Draft: No corporate sponsorship. There's a couple Heineken signs at the beer stand—that's the only kind of beer they sell—but that's it. It's a subtle touch that makes a huge difference.
My friend Hoyt really, really wants me to point out that the shuttles to and from Treasure Island are the nicest shuttles that he's ever seen. (Since Hoyt has ridden his bike to work for the last 25 years, I can't front him for being impressed.) What's amazing also is that they run efficiently—between this year and last, I've never waited longer than 10 minutes in the shuttle line—and even better is that parking at the ballpark is free. The promoters could have raked in a bundle charging $5 per car, but they consciously chose not to, and that deserves kudos.
Yeah, the bathrooms are poorly placed, and yeah, my main gripe is that there's no free water, but otherwise: hooray for the Treasure Island Festival.
We get there on Saturday just as Aesop Rock is going on; he's introduced by the British-accented announcer as "Aesop Rocks." Aesop Rock moved to San Francisco a few years ago but he's still wearing a Yankees cap. He's with Rob Sonic, who is one large dude.
I saw Aesop Rock in 2001 at the Justice League on Divisadero, right after Labor Days came out, and he was totally baked. Disoriented and disheveled, he struggled to stay on point and to keep the sold-out crowd's attention. Technically, he wasn't bad, but having been a huge fan of Float and Labor Days, it was uncomfortable to watch; I subsequently put Aesop Rock in the "troubled genius" file.
That was seven years ago. These days, as made apparent during his set, Aesop Rock has traded some of his lyrical esoteria for servicable stage presence; he cooperates with the idea that he's on stage to perform for people, and that's good. Throwing a few bones to longtime fans, he rips through the rapid-fire "Big Bang" and drops a remix of "Daylight." A decent rapper by the unfortunate name of Yak Ballz shows up and joins in on "Getaway Car," from Aesop Rock's not-bad recent album None Shall Pass.
"Y'all into turntablism out here in the west?" asks Aesop Rock, which, like, uh… didn't we kind of help invent it? As it's defined now, at least?
So DJ Big Wiz starts cutting it up on the 1200s, even though I haven't yet seem him flip a record in the entire set. Yep, folks, it's Serato Scratch Live—the vinyl emulator program that makes it possible to cut and scratch mp3s through a laptop using the turntable as an interface. For reasons too complicated and probably stupidly purist to get into here, I'm against it, even though it's endorsed by lots DJs that I love—Mix Master Mike, J-Rocc, Jazzy Jeff, Rob Swift, Peanut Butter Wolf, ?uestlove, 45 King, Afrika Bambaataa, Numark, Ollie Teeba, DJ Spinna, Z-Trip.
DJ Big Wiz does his thing, making a beat with software and loop effects, and I think nostalgically to last year's Treasure Island Festival when DJ Shadow and Cut Chemist did the same thing. Except with original 45s and no tricks. For an hour and a half.
"How much time we got?" asks Aesop Rock. "I keep lookin' at my watch like I'm waitin' for my girl's pregnancy test." Then he busts into "No Regrets," a brilliant ode to living the artistic life without compromising personal integrity, and at the end, struts off the stage aping Chuck Berry's famous leg-kick air-guitar maneuver.
Welcome to the Bay Area, Aesop Rock. We love you. But lose the Yankees cap. Deep down, you know they suck.
The Nortec Collective plays next, the first in a line of groups that probably belongs on NPR instead of a festival populated mostly by young hipsters. Recurring throughout the day, this realization hits me: that the hundreds of 19-year-olds in neon glasses, tight jeans, turquoise t-shirts and white vans aren't having it.
In front of an empty drum set upstaged by laptops, the members of Nortec Collective play guitar, accordion, and trumpet. The two main guys also hold up these things that kind of look like Speak 'n Spells, and which seem to make the same blippy noises. They're the Mexican equivalent of the Gotan Project—infusing electronica with traditional music from their home country's culture—and it is a sad representation for Mexico that they do not present their country's beautiful music nearly as sonically rich nor as emotionally deep.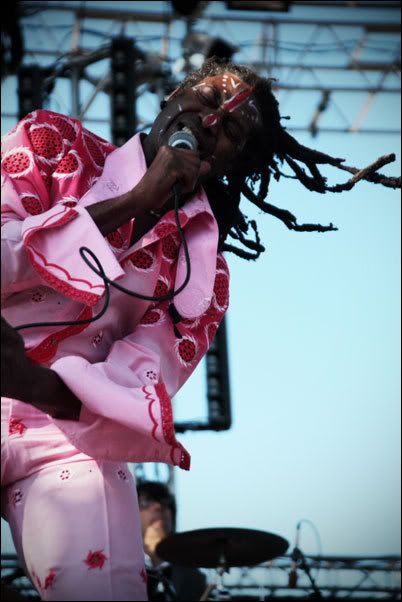 Antibalas continues the strange NPR-ing element of the festival. They're totally danceable, but no one is dancing. At all.
Attention, Justice fans! There was this guy named Fela Kuti, who was, like, the James Brown of Africa, and he had a zillion wives, and he fought the corrupt Nigerian government with a miraculously headstrong dedication, and he put out a bunch of amazing albums, and he influenced the entire world before he eventually died of AIDS.
Antibalas makes no reference to Fela Kuti, even though they're hella copping Fela's pioneering sound from the '70s and '80s. An 11-piece band with a heavy horn section, they play songs that sound like Fela Kuti with horn arrangements that sound like Fela Kuti and they go on for a long time like Fela Kuti and they're politically charged like Fela Kuti. Such is the spiral of influence.
Antibalas' latest album, Security, is fanastic; it's produced by John McEntire from Tortoise, and it doesn't adhere lock, stock and barrel to the Fela Kuti sound. But the best song of their set comes from their previous record, Who is this America?, which vocalist Amayo—clad in a crazy pink bellbottom getup—dedicates to John McCain and Sarah Palin. It's called "Indictment."
Dick Cheney – Indictment!
George W. Bush – Indictment!
Bill O'Reilly – Indictment!
Sean Hannity – Indictment!
Foals!
Who are Foals?
Foals are foals.
Foals are Foals!
Say it. Foals. Fun to say. Foals, Foals, Foals.
There are girls in the front row who are crying at the sight of Foals. There is a member of Foals who is holding the hand of a girl and leading her to the backstage while the wind from the bay blows her dress up above her waistline. The people gathered to see Foals are laughing at this. Foals!
Foals begins. Foals are modern! Foals go nn-tsst-nn-tsst-nn-tsst on the drums like the bands with the haircuts also do since 2003. Foals are from England, which explains the crying girls. There are always girls in America who will cry when they see a band of young boys from England like Foals.
The bassist of Foals should be the singer. The real singer of Foals looks bored. The drummer of Foals looks like a girl I know. During the second song of Foals, the power goes out. Foals are resourceful, and make a drum circle around the drums. They do not go nn-tsst-nn-tsst-nn-tsst. Foals go bang bang bang around the drums.
"This is the solar-powered stage," says Foals. "That's what happens."
I absolutely adore Amon Tobin's music and have been in love with his records for years. But watching him at an outside festival is dull; he stands at a laptop with turntables, and the more I pay attention to what little he's doing on stage, the less I enjoy the brilliant sounds coming from the speakers.
I close my eyes.
With my eyes shut, I turn my head towards the sun, above the San Francisco Bay. A bright, bloody red fills my view. It becomes brighter the longer I keep my head directed in the sky. Then I turn my head to the ground, and a slow fade to black ensues. Back up to the sun, swiftly, and a flash of white occurs. What happened to the red?
I open my eyes and pick up a remnant of grass from the ground. I stare at it. Isn't it amazing how some grass grows, and then stops to shoot a new tangent from its former self, and the "skin" of the former grass dies, yet still supports the ongoing process of growth?
Amon Tobin's music is the best shit I've heard all day. How do people dance to Amon Tobin? I decide to walk around and find out.
1. A gentleman in a Richard Nixon mask does the running man.
2. Two guys laugh and dance like Cossacks, arms folded flat and kicking each other's feet.
3. A guy in a track suit with a polka-dot hood shadowboxes, does handstands, performs push-ups, and kicks the air.
4. Two people on ecstacy—a guy with a perma-smile, a girl with purple hair—hug.
5. Some people put their hands in the air during particularly thick segments of sound.
6. A boy makes out with a girl in a purple velvet top and striped knee-highs.
7. A girl in a violet tutu over bellbottoms with rainbow shoelaces and a butterfly T-shirt stands there and stares directly at the ground, unmoving.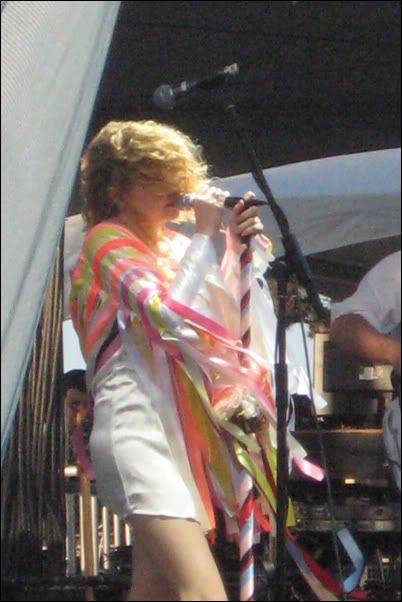 Goldfrapp is like the Cocteau Twins, but if the Cocteau Twins were only one girl and did cocaine. I like it. Alison Goldfrapp is bathed in ribbon, and I can't tell if it's homage or coincidence, but two teenage girls also covered in ribbon dance by the side of the stage to their set. Alison Goldfrapp's band is dressed entirely in white, and I can't tell if it's homage or coincidence, but a skeezy-looking thirtysomething dude in an all-white jumpsuit approaches the ribbon girls and starts gyrating near them. The ribbon girls hang with it for a while, but when the skeezy white suit dude starts making humpy thrusts at them with a gross smile, they get the fuck outta there.
There's only a few bands that play this festival who are better on record than they are live—Aesop Rock, Amon Tobin—but for the most part, I'm finding that almost everyone is way better live than they are on record.
Case in point: TV on the Radio.
I never, never understood what was so great about TV on the Radio until seeing them live. They play like the world's about to end. Fire. Grace. Tumult.
We discuss exactly how one could broadcast a TV on the radio, live, with minimal interference, and after pondering modern uses of iPods and Internet streaming, I think we settle on running a cable to a VCR with RCA audio jacks from the VCR running into a ham radio or a small radio transmitter. Voila.
It's time to head to the bathrooms which all have very long lines. A security guard standing watch does not do anything as people walk behind the port-a-potties to unzip their pants in a small clearing. While Liz waits in line, I start counting. 10 minutes later, 76 guys and 14 girls have all walked behind the port-a-potties and pissed on the ground.
CSS takes the stage playing "Jager Yoga," the first song off their most recent album—which almost always works on me. It helps that singer Lovefoxxx makes her entrance by releasing a huge cluster of helium balloons and wearing a coat made of… oversized confetti? Crumpled aluminum foil? Shredded federal documents?
"Meeting Paris Hilton" comes next. Everyone's heard the story by now of CSS playing the song at Coachella last year while Paris Hilton was actually there (sample YouTube comment: "hahaha! A Paris Hilton é a personificação de 'Bitch'… Fico imaginando se o pessoal do CSS imaginava que um dia ia ficar assim, cantando pra musa inspiradora da música, hahahah!') and maybe the joke is a little bit old by now, but you know what? I don't care.
CSS have made a slick-sounding album, Donkey, that they're taking some heat for. The songs aren't as raw or impulsive and the overall sound is a little more commercial. But, you know, big whoop. I used to be on the anti-overproduction train, but then I realized that records sounding good is not necessarily a bad thing. At the heart of things, Vacation was just as good an album as Beauty and the Beat. Well, almost.
"Where my bitches at?!" Lovefoxxx yelled. "Where my gays at? That's all we need. Bitches and gays!"
The rest of the set included "Alala," "Left Behind," Off the Hook," "Alcohol," "Let's Reggae All Night," and lots more. A hella fun band, CSS.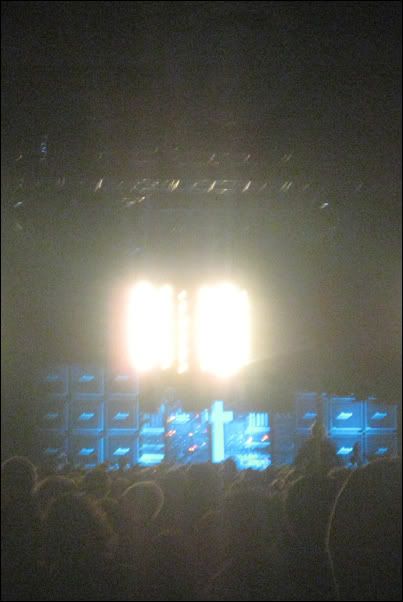 Justice is a big deal and I have no idea why (for enlightenment, we turn to Pitchfork, which describes Justice as "the rat-a-tat rhythms of electro scraping like Freddie Krueger's fingertips along the slimy walls of some basement dungeon"). I never got Daft Punk either. So kill me.
It's made weirder that their stage setup consists of empty Marshall amplifiers and a huge illuminated cross. We squint our eyes, but we can't see any actual human beings on stage. Boy, are people going crazy for it.
We get in line for the Ferris Wheel and run into the members of CSS—they're very nice—and hop on the ride to take a cold, windy cruise over the Bay, gazing at San Francisco's skyline at night and the thousands of people down below, grooving out to Justice. A nice way to end the day.
(Photos by Elizabeth Seward; Goldfrapp and Justice by Gabe)
Jump to Treasure Island Music Festival – Day Two.