Friday night at the Harmony Festival was headlined by perennial standby Michael Franti, who recently signed to Capitol Records after years on the independent-label grind. But Saturday and Sunday were topped by the Flaming Lips and Primus—two bands that got snatched up by Interscope and Warner Bros. in the great alternative rock signing frenzy of the early 1990s. While their back-to-back sets at the Harmony Festival were a nostalgia trip for many, and eye-opening for some, they also provided a case study in What Happens When the Weirdoes Get Industry Support.
In the Flaming Lips' case, it's resulted in some breathtaking albums—The Soft Bulletin and Yoshimi Battles the Pink Robots—and one of the world's must-see theatrical live shows. Part of the joy in seeing the Flaming Lips live the second, third or fourth time is watching the reactions of first-timers, particularly the ones on mind-altering substances, which at the Harmony Festival means many. So if you've seen the confetti blasts, the giant laser hands, the space ball and the mothership descent before, turn to your right and watch the slack jaws.
This was the case with me, although I can still say the 'Lips were better than ever. Opening with a blast of hits, including "Do You Realize?!," "She Don't Use Jelly," "The Yeah Yeah Yeah Song" and "Yoshimi Battles the Pink Robots," they powered into stranger material from Embryonic and a recent split with Neon Indian. A cover of Pink Floyd's "Eclipse" followed, the space ball came out, they closed with "Race for the Prize" and everyone left satiated.
There's a bit of ego tripping in Wayne Coyne's banter, urging the crowd to get more into their set and be more excited (he must've said "c'mon, motherfuckers, c'mon" a dozen times) and it's irritating that their volunteer dance brigade's options have gone from full-body bunny suit to ogle-inducing "Sexy Dorothy Costume" in six short years, but they've got their shit down, for sure. A key stat: before their set, the lawn was sparse, and I wondered where all the people were. By the end, the crowd couldn't've been denser, showing that the Harmony bookers took an interesting chance on the band, which worked.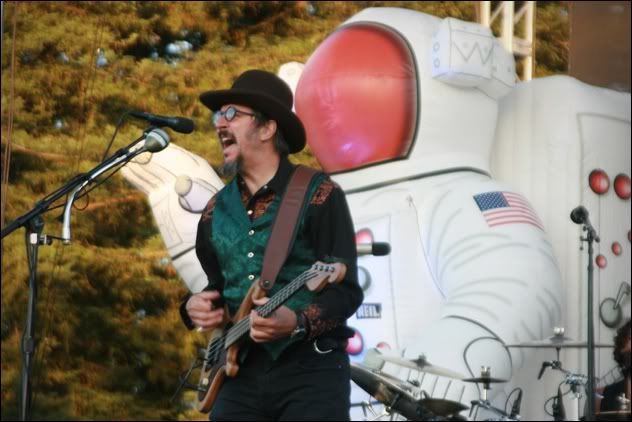 Primus is less of a gamble, since they've got deep roots in Sonoma County—something Les Claypool alluded to onstage, citing old stomping grounds like the Cotati Cabaret, the Phoenix Theater and the River Theatre. "You all look like fine people," said Les Claypool at one point, "I wish I lived around here somewhere."
Of course, Claypool does live around here—a fact reflected in new song "Hennepin Crawler," about a contraption made for the Handcar Regatta, and with references to the Russian River and Bodega Bay in another new song, "The Last Salmon Man," about the population reduction of chinook salmon. (Their new album Green Naugahyde comes out in September, and the rumors are true: It really does evoke the early Frizzle Fry era of Primus.) "Groundhog's Day" opened the show, and "Harold of the Rocks" and "Tommy the Cat" closed it, with an obligatory "Jerry Was a Race Car Driver" thrown in.
But the highlight, by far, was a version of "Those Damn Blue-Collar Tweekers" that epitomized Primus' three-piece range, with Larry LaLonde and Jay Lane pounding and skronking around Claypool's bass during an extended jam. I hadn't seen Primus live in roughly 20 years since literally worshiping the band during those Phoenix Theater and River Theatre days Claypool had alluded to, but damn if they didn't still have that same old magic.
And yes, it was the 1990s again, with crowd surfing and a real-live pit.
More Photos Below.
Flaming Lips: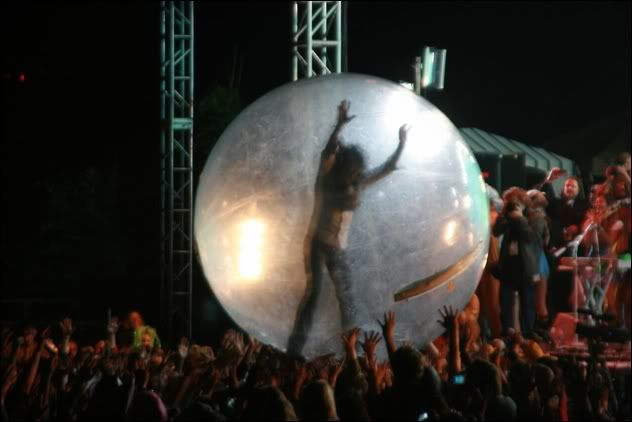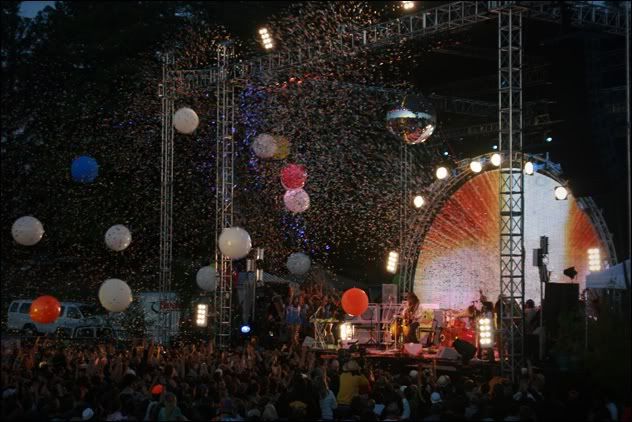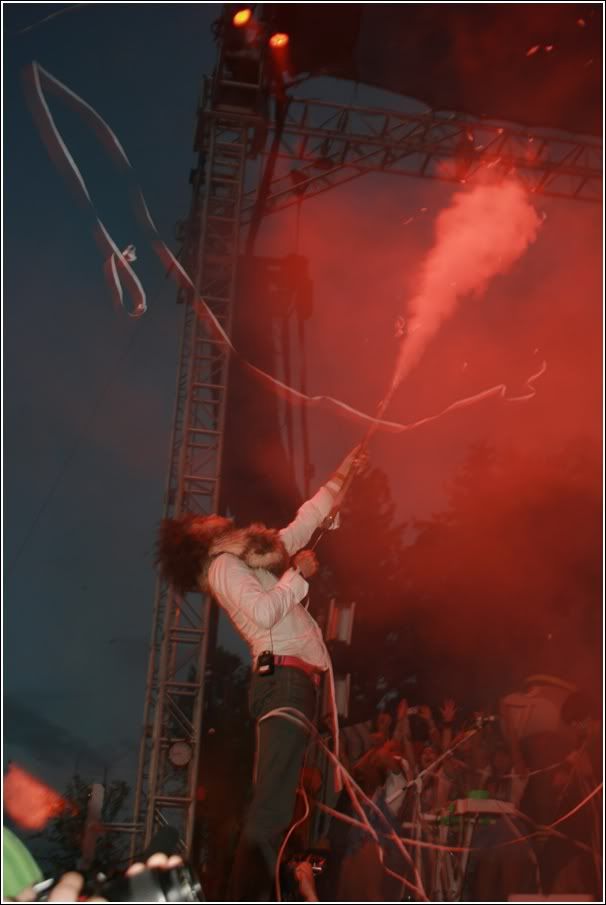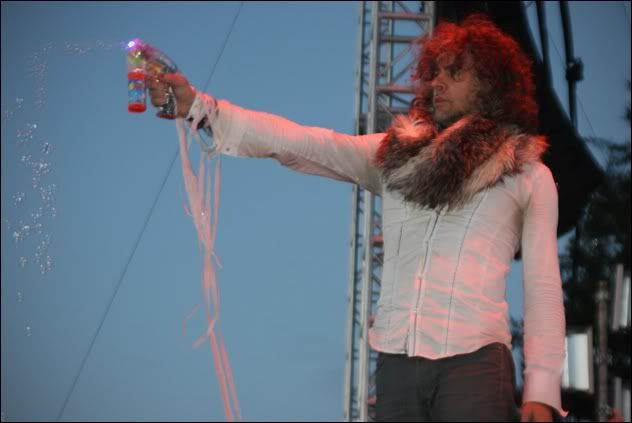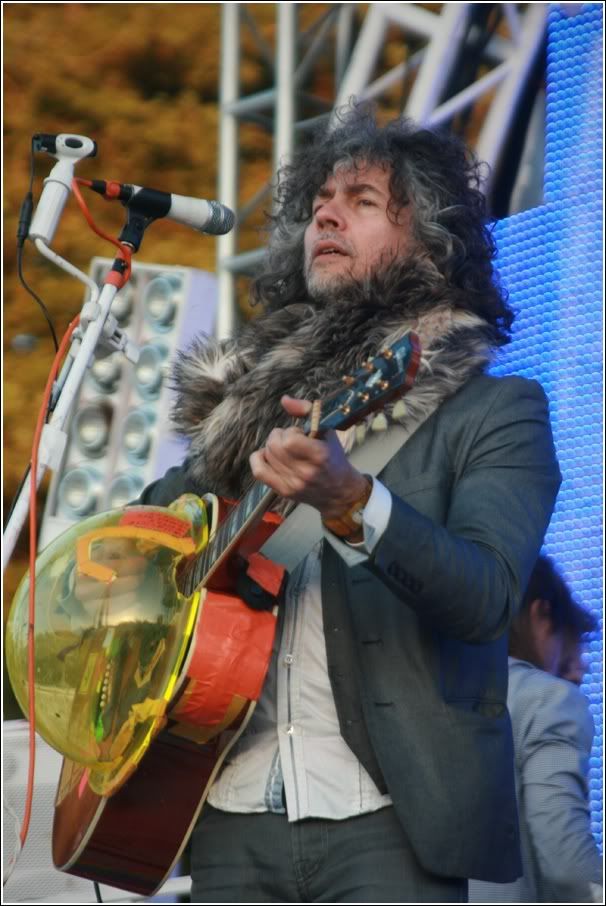 Primus: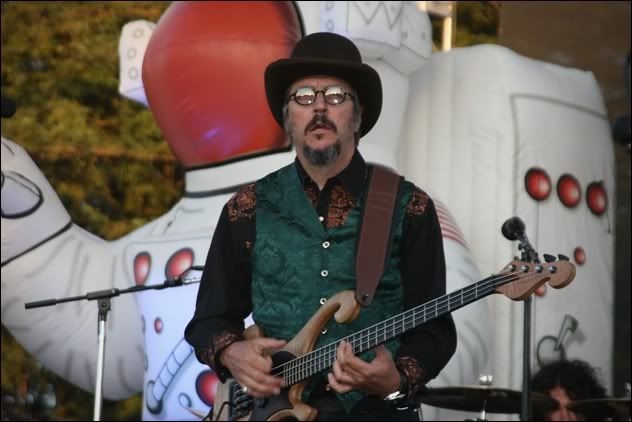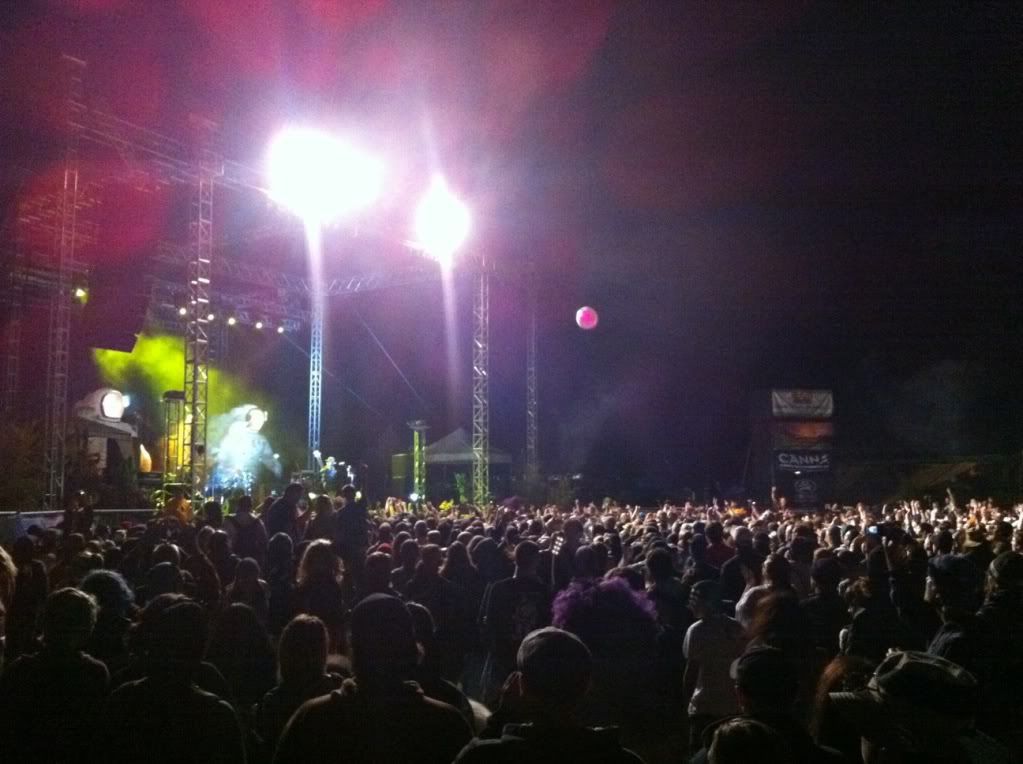 Edward Sharpe: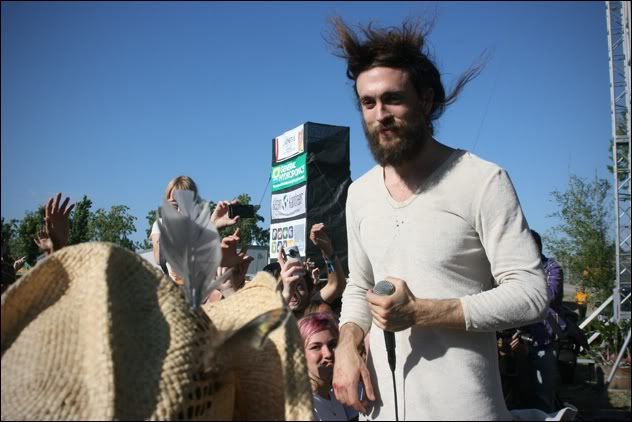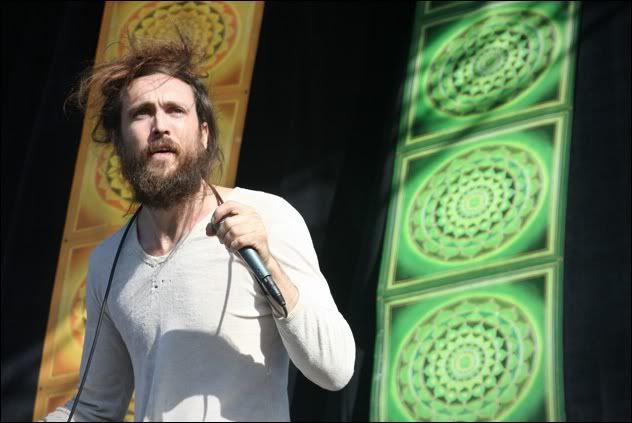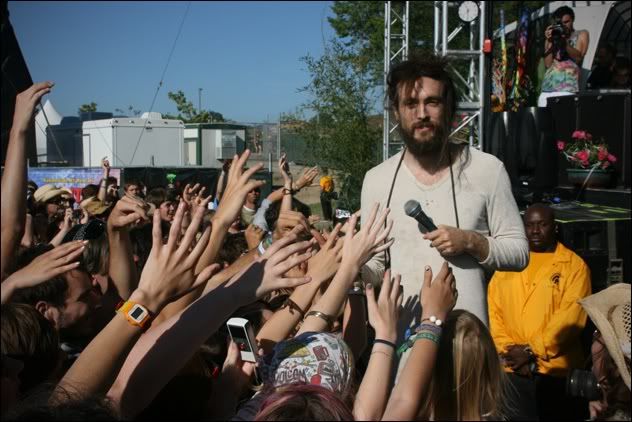 And then this, in the parking lot: