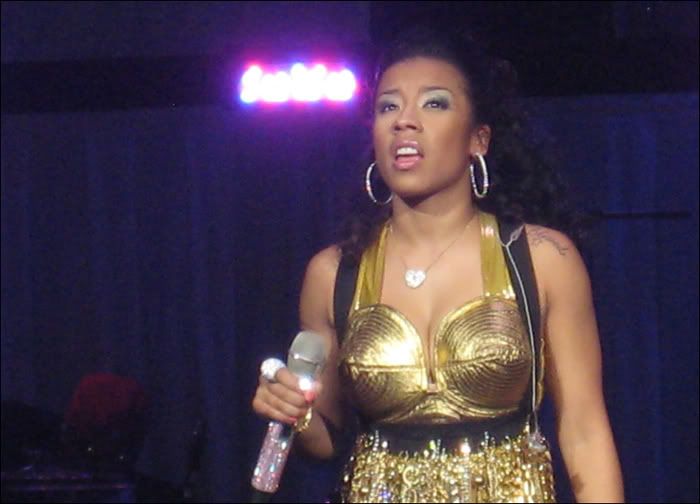 Everything was rolling along nice and fine during Keyshia Cole's show at the Paramount Theater in Oakland Sunday night when halfway though the set, to join Cole on "Let it Go," who should grab a mic and emerge from the wings but… Lil' Kim!
If the City of Oakland ever needs a fairly dependable—and loud—way to reenact the 1989 Loma Prieta earthquake, it should just let Lil' Kim walk out onto the stage. The 3,000-seat theater went absolutely apeshit. Walls rattled. Fans rushed the aisles. For sixty seconds, it was uncontrolled mayhem, as if an violent act of nature was running its course. Then, with the song over, with a quick hug to Cole and a wave to the crowd, she was gone. Shit calmed down again.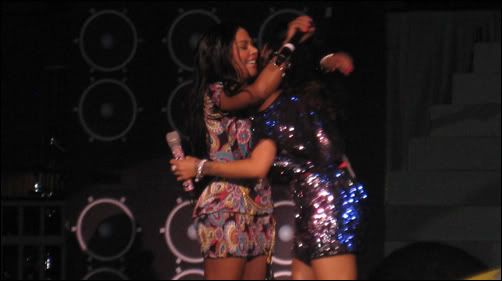 Cole never quite had the crowd in her hands the way Lil' Kim did, although not for lack of trying. Her nonstop choreography, her three wardrobe changes, her elaborate sets and gymnastic vocals all added up to an impressive display of hard work. But hard work alone is just that, and the sweat and energy Cole expels doesn't cover up the fact that she's touring on her weakest album yet. If Cole can get back to having classic material like "Love" and "I Should Have Cheated," and if she can make performing those songs seem natural and effortless, she'll be able to achieve her stated dream of headlining arenas instead of opening them—as she did the first two times I saw her, on tours with both R. Kelly and Lil' Wayne. She's got more talent than almost any other singer in R&B right now. She should have material to match.
After Lil' Kim shook things up, a surprise guest visit by Too Short on "Didn't I Tell You" was a welcome aftershock , and at the end of the set Cole took a few minutes to stop the music and thank her friends, family and fans in her old hometown for their support. She shouted out neighborhoods: "We got Murder Dubs in the house? You know I'm from Oakland when I say somethin' like that." It was a genuine moment, made more so at the end of a razzmatazz-filled spectacle. Then some dude took the mic and got the address of the afterparty wrong.
—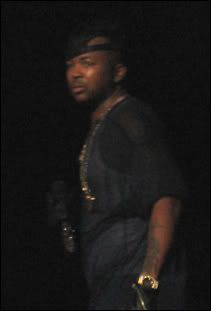 The-Dream is one of the greatest songwriters of the new century, and I've written about him a few times now. His records are brilliant in the way that early Prince records are brilliant (one of these days he will have his Purple Rain), and The-Dream's hits for other people—"Single Ladies," "Umbrella," "Touch My Body"—need no introduction. But could he pull it off live, I wondered? Such is the post-ProTools landscape. I didn't even know if the guy could sing on key.
Color me faithless. The-Dream was incredible live. Yes, he sang on key. More than that, he was simply electrifying to watch. He, too, talked openly to the crowd. Introducing "Falsetto," a song about the noises one makes in bed, he instructed fans that "if y'all are sitting down for this song, then you're getting' old and you don't know how to fuck."
The night before the show, I drew up a set of dream Dream songs. My friend balked at "Purple Kisses," and I felt redeemed that it was played. "Love vs. Money" also matched my expectations by being accompanied by guns fired in time to the intro's gunshot sounds—a trick I've always wanted other bands to do—but died on the vine in the second verse after backup dancers interpreted a clock ticking down. Also: the first verse and the first verse only of "Sweat it Out," rendered acapella.
The-Dream knows his hits. He interpolated both Michael Jackson's "Dirty Diana" at the end of "Nikki" and the Force M.D.s "Tender Love" at the end of "My Love." He took his hat and glasses off and looked more like a completely different person than any other singer I know who takes their hat and glasses off. He swore often when talking about record executives choosing the wrong singles and his enthusiasm for the crowd's support. His last song was "I Luv Your Girl," and bearing witness to a theater of thousands of people singing its key line louder than any other line of the night was nothing short of incredible.
More Photos Below.