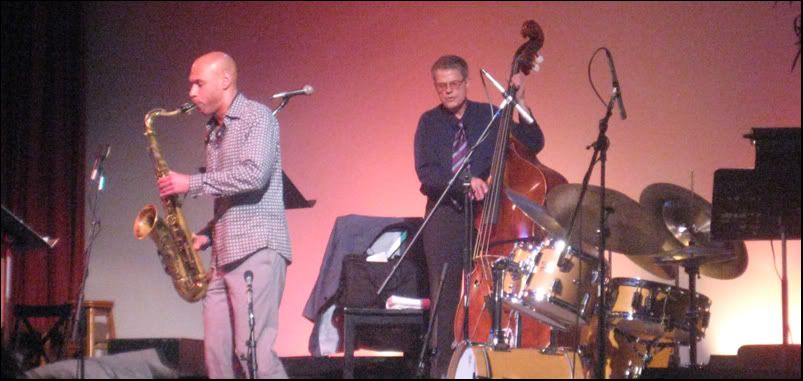 "It must be Healdsburg," explained a tranquil Kenny Barron to the crowd. "It makes you so relaxed."
Billed as "A Night in the Country," last night's flagship concert for the Healdsburg Jazz Festival could have easily been called "A Night in Wine Country," with all of that term's implied reassurance of the sweet life. In a decidedly mellow program of mostly standards and ballads, some of jazz's finest players serenaded a well-dressed and middle-aged crowd at the Raven Theater with solos smooth and subtle as a vintage chardonnay and arrangements as quiet and nonintrusive as the engine of a Lexus.
It was the damnedest thing: Joshua Redman, Charlie Haden, Kenny Barron, and Billy Hart are all intensely creative players whom in the past I've seen deliver searing performances. Yet each member of the quartet last night appeared weirdly subdued, as if they either made a collective pact beforehand or were otherwise instructed to keep the show within the lines of accessibility for an unadventurous Healdsburg crowd. This is neither a compliment, nor is it particularly a complaint—although when one hears "Body and Soul" twice in one night, it's hard not to feel one's taste is underestimated.

So ballads it was, and if you're gonna have ballads on order, Joshua Redman is the man to call. Redman's velvety tone, with its Hawkins/Webster-lite hue, toyed with but never revealed the edges of the tenor sax last night; it was instantly apparent why he's a star. Coupled with his melodic conception, Redman was perfect for songs like "What'll I Do," during which his captivating, lyrical solo—filled with sleek arpeggios and unfathomable bends—was the entire evening's highlight. And that's no small feat, since his lengthy intro to "My Old Flame" just minutes before, played alone in the center of the stage to awed silence, ran a close second; it was as if a loving monologue of anxiety and sorrow had been pulled out of thin air.
These heights, however, would have had a much stronger impact in a less plodding context. Paced incrementally, the set opened with Barron playing a stride-tinged solo version of "I'm Getting Sentimental Over You," and one by one, each player joined in after every couple song—but since Hart on drums came last, most of the set was without a prevalent pulse. The theater was hot. My mind wandered. The band kept playing slow, meandering tunes.
It wasn't until the very end that things reached full swing, with an appropriate choice: an uptempo rendering of "Strike Up The Band," with Hart rattling out some attention-grabbing drum roll-offs and prodding his cohorts to finally let loose. Everyone on the stand suddenly came to life, playing the way I was used to them playing, and after a program drenched in molasses, it felt like a majestic coming up for fresh air.
A standing ovation arrived from the sold-out crowd, but the encore, syrupy enough, was an easy-breezy-beautiful rendition of "Body and Soul." Our tickets were $50 each, and you'd think we'd want to get all of our money's worth, but it was just too straining. We exchanged glances and bailed.