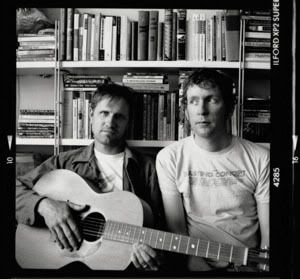 The Toad in the Hole has an official fire capacity of, like, 48, and I usually feel really bad for Eddie, their doorman. Part of his job is to be the messenger of bad news and to turn paying customers away when the place is hopping—which was definitely the case last Saturday night. Chalk it up to First Novels, with the match-made-in-heaven pairing of Andy Asp and Brian Fitzpatrick, to pack the tiny Toad in the Hole and to leave latecomers stranded on the sidewalk outside.
Andy and Brian, who for years played together in Cropduster and seem essentially like soulmates at this point, are a thrill to watch together—sometimes you think Brian's the luckiest guy in the world to play with Andy, sometimes you think Andy's the luckiest guy in the world to play with Brian. Their songs, influenced by tunesmiths like John Prine, Tim Hardin and Neil Young, are microcosms of wonder, and between Andy's voice and Brian's guitar work, they're played with a hypnotic, untainted delicacy. Note to people who try to talk to me when Andy and Brian are playing: dude, be quiet.
Special mention must be made of Muir Houghton, upright bassist extraordinaire, who picks up songs on the spot and plays them like he's played them forever. I've seen him a few times now, and whether bowing or plucking, whether playing with John Courage or Amber Lee or First Novels, he's always on top of his game.
The Spindles played last, and incidentally, I don't think they've ever been better, benefiting greatly from the addition of new drummer Jonathan Hughes, who plays with a really thoughtful and compatible sense of taste. Sweet-lookin' drum kit, too.