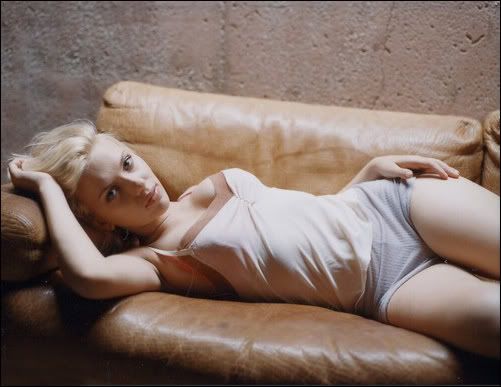 Between possibly getting engaged, starring in movies that aren't as good as Ghost World, getting hot and steamy with Justin Timberlake, and acting as a modern-day Betty Grable visiting the troops in Kuwait, it'd seem that Scarlett Johansson's dance card is totally full.
But in news that pretty much has the entire world's panties in a bunch, Johansson's been busy putting the finishing touches on a solo album. No big deal, you say? Then smoke on your pipe and put this in: it's a solo album of ALL TOM WAITS SONGS.
To the casual observer, this in itself is pretty nuts. But to longtime Tom Waits fans, it's even more insane, like Jesus coming back and ordaining Waits as the official MC for the resurrection. To further spark those indie-nerd juices, Johansson hit the Louisiana studio with the Yeah Yeah Yeah's Nick Zinner on guitar and TV On The Radio's Dave Sitek on production.
The track listing's not been made available yet, but speculating about the hundreds of song choices available is half the fun ("Pasties and a G-String"? "Christmas Card From A Hooker in Minneapolis"? "Better Off Without A Wife"?).
Mark your calendars: the album, called Anywhere I Lay My Head, is due out on May 20 via Atco Records.