1. tUnE-yArDs – w h o k i l l (4AD)
When I first heard tUnE-yArDs' w h o k i l l, I was so flabbergasted that I could report my findings only in abstract poetry form. With a ukelele, a drum kit, a fantastic bassist in the form of Nate Brenner and a total command of loop pedals, Merrill Garbus has made a record that's both daring, accessible, and fully enjoyable. Like Joanna Newsom revolutionized the harp and PJ Harvey rethought the autoharp, Garbus is probably spurring a boost in ukelele sales nationwide; what can't be packaged is her incredible, malleable voice, which is sweet and cooing one minute and a roar from another world the next. Variety is the spice of w h o k i l l: There are grinding, horn-heavy jams like "Bizness," and there are slow, beautiful ruminations on love, like "Powa," with a breathtaking upper-register ending. Thematically, the record takes on a tortured society, from a refutation of modern America to violence, police brutality and empowerment. I saw tUnE-yArDs twice in 2011, and talked to Garbus briefly. (She told me "Santa Rosa isn't piddly.") I also played this record over and over and over and over and over and over.
2. Death Grips – Ex-Military (Third Worlds)
The Easy Listeningification of Everything was probably the defining thread of 2011. Last year's chillwave mellowness permeated not just wispy rock hits from bands like Real Estate, Toro Y Moi and Washed Out, but it snored its way into hip-hop as well. Musically, Drake's Take Care is just a couple steps away from new age, and Frank Ocean, sprung from the usually abrasive group Odd Future Wolf Gang Kill Them All, wowed critics (and Beyoncé) with a smooth, synth-ed out semi-R&B record, Nostalgia, Ultra. This Prozac-esque trend owes in part to three years of Lil' B, the Oakland rapper from The Pack who released an album this year called I'm Gay, and whose Rain In England LP, heavy on rhythmless synthesizers, was released by the experimental noise label Weird Forest. (Going further back, one could tip the hat to Jay Electronica, who in 2007 released "Act I: Eternal Sunshine (The Pledge)," a 9-minute track of rapping, with no drums at all, over the incidental score from Eternal Sunshine of the Spotless Mind.)
All this lead-up is to say that I got tired of hearing rap music that wasn't fucking rap music in 2011, and Death Grips' Ex-Military was the perfect antidote to the annoying trend of blissed-out navelgazing in hip-hop. Led by the maniacal MC Ride and powered by Hella drummer Zach Hill, the album is one ferocious eruption of angry ideas after another, shouted recklessly over samples from the likes of Jane's Addiction and Link Wray. The group's videos are skittish, diseased and terrifying. Hip-hop in 2011 mostly said, "I'm cool, thanks." Ex-Military said fuck you.
3. EMA – Past Life Modern Saints (Souterrain Transmissions)
Another pitfall of music in 2011 was dull oversharing. Menial details of one's life do not a deep statement make, but plenty of artists (and Facebook users) thought otherwise. EMA's Past Life Martyred Saints is an album by Erika M. Anderson, who realizes life is not poetry unless you make of it something different and eloquent. You might not think as much from an album that opens with the lines "When you see that ship / It is the ship you can see," but hang in there, I promise. "I wish that every time he touched me left a mark," Anderson repeats on "Marked," sounding like an Exile in Guyville Liz Phair; "20 kisses with a butterfly knife" reads like a cast-off lyric from Tom Waits' Blue Valentine. There's blood, jealousy, disappointment and revenge, especially in the fantastic semi-spoken "California," a masterful hypotenuse between Patti Smith and PJ Harvey. Live in San Francisco, EMA was all sorts of likable awkwardness—if you're into real human beings trying to be real human beings in front of a crowd of strangers, against the odds, she is fantastic. If you are not, you will probably say it feels like a therapy session.
4. Jamie XX – We're New Here [Instrumentals] (XL)
I remained apathetic to the universally loved 2010 debut album by The XX (except that beautiful intro!), and this year did not jump out of my seat for a Gil-Scott Heron remix record by Jamie XX, We're New Here. Intermittent "old soul" voice samples in electronic music = kind of 1999, but in the limited-edition box set released for Record Store Day, there was a separate disc of the instrumentals. I played them, and played them, and played them. Each time, the sonorous bass kicking in during "I'm New Here" was like a drip of morphine; the insistent wiggle and menacing handclap of "Running" always put me in an imaginary heist movie. This BBC Essential Mix on Soundcloud gives you an idea of the thoughts running through Jamie XX's brain; download and escape.
5. Givers – In Light (Glassnote)
When making these lists, I have to consider records that just plain make me happy. Sometimes those records shoot to the top of the list, like in 2007, with the Cribs' Men's Needs, Women's Needs, Whatever. This year the "always makes me happy" award goes to Givers' In Light. Critics may have pointed out that it sounds a lot like a Vampire Weekend / Dirty Projectors hybrid, but there is an effervescence to this record that I cannot deny. I mean, the first song is called "Up Up Up"! If I were to pick a perfect single of the year, "Saw You First" would be a contender—just a sweet-sailing, high-kicking love song that hits all the right notes. Really, listen to it. There are mega-epic "rock moments" all over the record, the songs are a senior thesis in perfect arrangement, and goddamn if Tiffany Lamson and Taylor Guarisco's voices aren't a lovely blend.
6. The Weeknd – House of Balloons (Self-Released)
I've tried in the past to contain these lists to legit physical releases, but with more and more artists self-releasing via free download, I wave the white flag—five titles on my 2011 list began life as free online offerings. The Weeknd's House of Balloons was posted online in the early part of the year, and it might win the award for broadest appeal. The Weeknd is Abel Tesfaye, an Ethiopian-Canadian R&B singer who bathes in dramatic lust; if you've ever wondered what might happen if The-Dream loved Siouxsie and the Banshees, here's your answer. More about mood than songwriting, House of Balloons is a successful straddle between indie, R&B and pop, and its intrigue and atmosphere transfer a regular late night into something gripping and sexual; a regular morning into something laden with regret and haze.
7. Clams Casino – Instrumentals (Type)
"Lil' B songs are better without Lil' B," a friend told me recently, and such subtraction leaves Clams Casino's Instrumentals. Casino is from Jersey, makes beats that fit in to the 2011 aesthetic of laze, and has worked with A$AP Rocky and Mac Miller and maybe Drake but he's not saying. He always sounds better on his own, and Instrumentals—originally a download, eventually released on 2LP by Type Records—skirts into an astral plane and deserves attention without clamoring for it. Seek it out if you can; he's definitely on the rise.
8. Odd Bird – Smith (PCL)
Some albums don't hit at first pass; you have to turn them inside out. In the case of Odd Bird's Smith, I took the literal interpretation of this idea. First, I bent the gatefold LP backward and inside-out so that this excellent photo by Sara Sanger would be the "front" cover. Then, I began playing it starting on Side C instead of Side A. Both adjustments turned a decent local release into a year-end winner. Taut tunes, animal imagery, harmonies between Ashley Allred and Judah Nagler that are in the clouds, plenty of guest musicians, and songs that pay rent in your head.
9. Kreng – Grimoire (Miasmah)
Remember all that complaining about synthesizers, a lack of drums, and langour infecting all genres? An irony to The Easy Listeningification of Everything in 2011 is that much of it is imported from the so-called "noise" scene. (See: Oneohtrix Point Never.) I admit that I overdosed on noise in 2010, and try as I did to escape the genre's clutches in 2011, certain artists grabbed me and would not let go. Kreng's Grimoire is an Angelo Badalamenti soundtrack updated for the 21st century—it lulls, then slashes, and slashes hard. Aside from Bernard Herrmann's music for Obsession, I have never been so downright terrified listening to a record . Here's a Soundcloud; good luck making it out unscathed.
10. Amon Tobin – Isam (Ninja Tune)
There was a streak there where I was waiting for Amon Tobin to make a substandard album. It came with The Foley Room, an experiment in field recording and sound manipulation that fell flat. But with Amon Tobin's Isam, the Brazilian-born DJ makes a pummeling, bombastic case for longevity. (Back in 1997, who would have predicted that Ninja Tune's boy upstart would one day overtake DJ Shadow?) Everything Tobin does is interesting, but Isam is cohesive, and ranks up there with Supermodified and Out From Out Where.
11. That Ghost – Songs Out Here (TwoSyllable)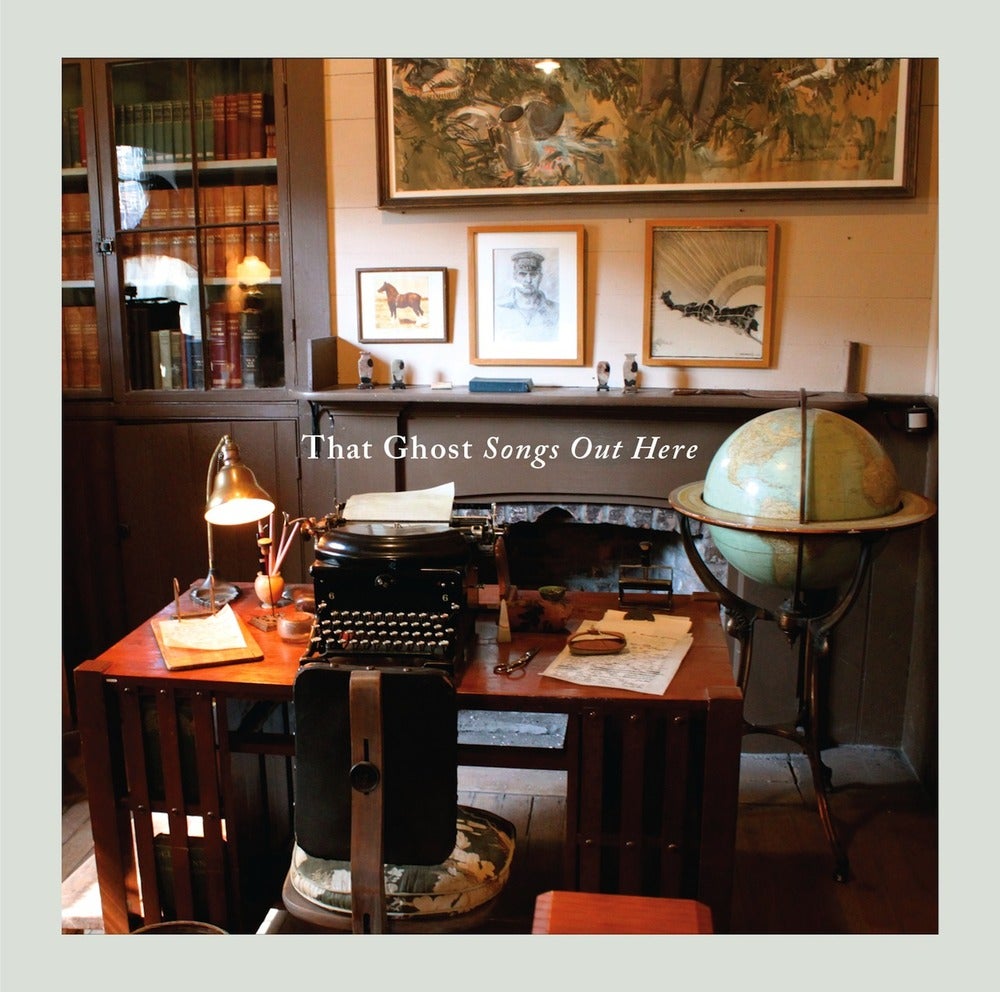 That Ghost's Songs Out Here is a surprise favorite of mine recorded by a kid named Ryan Schmale from Santa Rosa, whom I have never met. Lo-fi and echoey, part Roy Orbison and part Shirelles, antiquated and warehoused. I keep pulling it out and putting it on, and finding new things to love.
12. Hudson Mohawke – The Pleasure Principle (Warp)
Though he released a "real" EP this year on Warp, Hudson Mohawke's The Pleasure Principle is a fucking dance jam, with exuberant club-worthy remixes of Janet Jackson, Keri Hilson, Jodeci, Aaliyah and Gucci Mane. I want to hand it to a DJ at Rock 'n' Roll Sunday School and see what happens.
13. Grouper – Alien Observer / Dream Loss (Yellow Electric)
For those looking to kill the lights and imagine Lars von Trier's Melancholia in real life, Grouper's Alien Observer / Dream Loss is a two-separate-album release; a vision in reverb and lost emotion. For someone whose art can be very detailed and knotty, Liz Harris' music is linear and soaring; I cannot help loving this.
14. Beyoncé – 4 (C0lumbia/Sony)
The video of the year, in my opinion, was this Jay-Z-filmed backstage iPhone clip of Beyoncé warming up in her dressing room by singing "1+1" with sparse accompaniment. Though I didn't dig the album at first (singles "Love on Top" and "Countdown" are not the best representatives of this effort), Beyoncé's 4 won me over with its unapologetic bliss. Get happily married, y'all, and then play this album, and then tell me what you think of it.
15. Tom Waits – Bad as Me (Anti-)
Another album I initially dismissed was Tom Waits' Bad as Me, largely because it breaks absolutely no new stylistic ground. I kept coming back to it, though, and more than a disappointing retread from someone who should have more vision, it's a touching album. The incessant banjo on "Raised Right Men" matches any tense gait, and the last song "New Year's Eve" should be played at every New Year's Eve party.
16. Terius Nash – 1977 (Self-Released)
Terius Nash's 1977, well, what can I say? Yes, I love The-Dream (a.k.a. Nash) up to a point (that point would be Love King, blecch), and this free download brought back some of what I love. "Used to Be" is everything all those other cold-fish rapper-singers who complain about their love lives wish they could attain, a village idiot with a huge, complicated heart.
17. Pete Swanson – Man With Potential (Type)
A holdover obsession from 2010, Pete Swanson's Man With Potential grabbed my ears for expanding beyond Swanson's noise parameters and into a bizarre type of… house, or something? Imagine Manchester's Factory with an insistent short-circuit; fans of Eno, Vangelis and Kraftwerk might do good to watch this clip.
18. Liturgy – Aesthetica (Thrill Jockey)
Many years ago a band from the East Bay called Asbestos Death morphed into a band called Sleep, whose Dopesmoker ushered in a new wave of slow, plodding stoner metal. (Kyuss helped on a mainstream level, then turned in to Queens of the Stone Age.) For a time, stoner metal was everywhere, and Sunn o))) did it best, and then… oversaturation. Liturgy's Aesthetica brings that beat back in amphetamine explosions of rapid-fire time signatures and eruptive, howling vocals. It's fast, it's furious, it kicks ass.
19. St. Vincent – Strange Mercy (4AD)
I avoided St. Vincent's Strange Mercy (fashion spreads turn me off) but then saw a clip on the late-night, and dove in. There is no easy categorization for the music here, and Annie Clark seems to avoid it even further by piling up pedal effects on her guitar playing. If the last time you heard her she was covering Jackson Browne (or as the kids say, The Royal Tennenbaums), then it's time to call again.
20, 21, 22, 23, 24, 25…
I love Greg Brown's Freak Flag because his voice is lower and raspier than ever. . . Crooked Fingers' Breaks in the Armor has "Heavy Hours" and "Went to the City," two goddamn incredible songs. . . Do feel free to be freaked out by the cover photo of Chelsea Wolfe's Ἀποκάλυψις, and make sure to save some extra freakedoutedness for the music. . . I desperately want Concord Jazz to take good care of the entire OJC catalog they recently acquired—seminal jazz titles on Riverside, Prestige and more by Miles, Coltrane, Monk, Rollins, Evans—but their track record of honoring what we loosely call "real jazz" is not promising. Releasing Stefon Harris/David Sanchez/Christian Scott's Ninety Miles is a step in the right direction. . . I loved James Blake's James Blake for two weeks, then hated it, then saw him and loved it, then hated it again, and now it's just there. . . and from the fantastic vocalist, Gretchen Parlato's The Lost and Found is a collection of soothing, nuanced songs by Wayne Shorter, Bill Evans, Lauryn Hill and others, with contributions from Robert Glasper, Ambrose Akinsumire and Taylor Eigsti. And girl, she gots Skrillex hair.
Original list of the Top 25 Albums of 2011 is here.