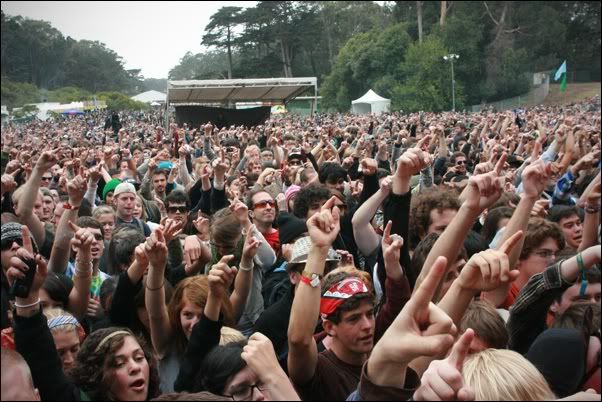 I just noticed that the Outside Lands Twitter page has been dropping hints all day about the lineup for the 2010 Outside Lands festival this year, running August 14-15 in San Francisco's Golden Gate Park.
It's essentially an early lineup announcement—the clues aren't that hard. Let's figure them out.
1. Louisville, KY: "Ranger Dave's winter hibernation is now over."
Obviously My Morning Jacket, who were inactive all this past winter. Plus, not too many other festival-type bands from Louisville.
2. Fort Collins, CO: "Ranger Dave will be serving white russians."
I'm thinking this is Devotchka, from Colorado with a Russian name. Update: The clue for Fort Collins is actually "Ranger Dave loves feasting on big city burritos in the town where the rams roam." Big City Burritos and the CSU Rams are in Fort Collins, and so is Pretty Lights.
3. Woodstock, NY: "Ranger Dave loves hanging in Woodstock, NY around midnight."
It's gotta be Levon Helm. He holds infamous "Midnight Rambles" at his studio in Woodstock, and his tour itinerary shows him playing in L.A. on Aug. 15.
4. Los Angeles, CA: "Ranger Dave used to be a robot."
Edward Sharpe and the Magnetic Zeros. (Alex Ebert used to sing for Ima Robot.)
5. Fullerton, CA: "Ranger Dave loves his Southern California punk rock from Fullerton."
You can't say Fullerton punk rock without saying Social Distortion.
6. Montreal, Canada: "Ranger Dave is part Arab, part Jewish and a little French Canadian."
Chromeo, without a doubt.
7. San Francisco, CA: "Ranger Dave worships this infamous Black Rock DJ."
Bassnectar, I'm sure, who's a staple at Burning Man in the Black Rock desert.
8. New Orleans, LA: "Ranger Dave digs brass bands from Treme."
The television show or the actual neighborhood? Either way, it's probably the Dirty Dozen Brass Band, since their tour itinerary puts them in Los Angeles on Aug. 18.
9. Versailles, France: "Ranger Dave is wondering what Glendale, Mesa, Tempe and Scottsdale have in common."
Phoenix, which will make lots of people stoked.
10. Santa Cruz, CA: "Ranger Dave likes his grass from Santa Cruz via Vermont."
Definitely the Devil Makes Three, a bluegrass trio from SC by way of Vermont.
So there you go. I think it's interesting the festival is condensing down to just two days this year—not enough big-name headliners, possibly? Realize in years past they've had mainstream staples like Radiohead, Tom Petty, Pearl Jam, Black Eyed Peas and Dave Matthews, and this tiny trickle of a lineup seems meager, Billboard-wise. It's just a trickle, though—it's not to say they won't bring out bigger names when they announce the full lineup June 1.
But everyone knows it's the smaller-stage bands that really make this festival. I'm rooting for Superchunk, who only leave their hometown these days for large festivals. Everyone else besides me seems to want Faith No More.
Two-day tickets are on sale for $115, plus the usual service gouges, here. ("Sold Out," which only means they're temporarily off sale for a while. Golden Gate Park is huge, so don't get too worked up about it.)
—
UPDATE: More clues just in!
11. Memphis, TN: "Ranger Dave is the reverend of love with single stem roses for the ladies."
Easy—that's Al Green.
12. Newmarket, Ontario: "Ranger Dave is in a Japanese fraternal order with Steve Guttenberg."
That's gotta be Tokyo Police Club. (Steve Guttenberg starred in the Police Academy movies.)
13. Niafunke, Mali: "Ranger Dave has to travel to Mali to find the blues."
This could be any number of people, but it's Vieux Farka Toure, Ali Farka Toure's son, who lists the Outside Lands date on his website.
14. Warri, Nigeria: "Ranger Dave will then backpack to Nigeria on his way to Germany to cleanse his soul."
Most likely Nneka, from Warri, whose mother is German.
15. Melbourne, Australia: "Ranger Dave raises dionaea muscipula with bad attitudes."
That's gotta be the Temper Trap.
Also, in early March, Kings of Leon sent out tour dates to fans that included Outside Lands. Whoops! So Kings of Leon is probably a safe bet—they have the date open on their tour itinerary. Weirdly, they're going to be in San Diego, Irvine and Los Angeles in July, but they conspicuously aren't playing Northern California. Most likely because Outside Lands has them for August.
–
UPDATE: Even more clues.
16. Los Angeles, CA: "Ranger Dave is getting frisky. He's scared of the ghosts on the roof."
There's five zillion bands in L.A. and this clue is so vague, I can't wager a guess.
17. New York City: "Ranger Dave has smuggled Ukrainian books through Staten Island."
If this is not Gogol Bordello I will eat my hat.
18. New Orleans, LA: "Ranger Dave is floating on the other sea."
??? Again, large field, bad aim. Galactic? Allen Toussaint? Zzzzzzz.
—
19. Kansas City, KS: "Ranger Dave is a fan of this French impressionist painter."
Most likely Janelle Monae.
20.  "Ranger Dave is a friend of felines big and small."
As Tall as Lions?
21. "Simon says Ranger Dave is cruising on the Pacific Coast Highway in West LA county."
Hmm… "Pacific Coast Highway" is the current single by Hole?
—
Relix Magazine published a lineup including Black Star and the Gossip this week.
And another big whoops: Rolling Stone just leaked Furthur as a headliner.
—
UPDATE, JUNE 1: Well, that was fun. Here's the official press-release lineup:
Kings of Leon (Sunday Headliners)
Furthur featuring Phil Lesh & Bob Weir (Saturday Headliners)
The Strokes
My Morning Jacket
Phoenix
Al Green
Social Distortion
Gogol Bordello
Nas & Damian "Jr. Gong" Marley
The Levon Helm Band
Cat Power
Empire of the Sun
Wolfmother
Bassnectar
Chromeo
Edward Sharpe & The Magnetic Zeros
The Temper Trap
Pretty Lights
Janelle Monáe
Amos Lee
The Devil Makes Three
Tokyo Police Club
Beats Antique
Rebirth Brass Band
Wild Beasts
Sierra Leone's Refugee All Stars
Daniel Lanois' Black Dub
The Budos Band
Aterciopelados
Garage A Trois feat. Stanton Moore, Marco Benevento, Skerik & Mike Dillon
Mayer Hawthorne & The County
Langhorne Slim
The Pimps of Joytime
People Under the Stairs
Electric Six
Vieux Farke Touré
Dawes
Nneka
The Soft Pack
The Whigs
Little Wings
"More acts will be announced soon," says Mr. Press Release. Two-Day tickets go on sale June 2 at 10am PST and Single-Day tickets go on sale Sunday, June 6 at 10am PST via the Outside Lands site.