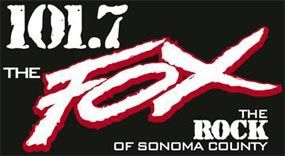 In a surprising twist that has just about everybody scratching their heads, longtime hard-rock radio station 101.7 FM The Fox has officially been pulled off the air.
According to a source close to the station, employees of the Fox found out about the change in a meeting at 11am today. Immediately afterward, the station went off the air at noon.
The replacement station, "Hot 101.7, Sonoma County's Hit Music Station," is currently playing Top 40 hits (as I type this, it's Ke$ha's "Tik Tok"). If listeners notice any resemblance to another local Top 40 station, it's no coincidence. Maverick Media, the Fox's parent company, recently conducted an audit through a third-party surveying company and found that among those polled, Top 40 is more appealing in this region than hard rock.
Said another source: "They hired this company that finds out what music works, and what music isn't working, and they felt like in order to keep a competitive edge in the market, they needed to strong-arm the only station that didn't have any competition."
That station, Y 100.9, airs on a weaker signal in Sonoma County, and the Maverick Media executives at the meeting seemed confident that Hot 101.7 will be able to overpower the smaller station "out of business," the source said. (Y 100.9 is owned by Sinclair Communications, which also owns 95.9 the KRSH and 96.7 BOB-FM.)
Hot 101.7's new site declares: "We asked Sonoma County what they wanted from their favorite radio station. You told us you wanted a HOT station that played hit music with LOTS of music." (As I type now, it's the Black Eyed Peas, "Just Can't Get Enough.")
Public response so far has been predictably negative, with the new station's Facebook page filled with "fans" who are making their voice clear: "What the HELL!!!!" writes a typical fan. "No more freaking pop stations!!! I want the old FOX back. Gimme my rock back. I am beyond sick to my stomach. UGH!!!!!!" Elsewhere on the station's Facebook page, fans complain about having their posts removed by the administrator.
A page for "Fight Hot 101.7" has cropped up just today, along with an even bigger page called "Bring Back the Fox," and a public protest is planned for Friday, March 25, at 4pm.
Without a doubt, this marks the end of an era for Sonoma County radio. For over 20 years, the Fox has been a Sonoma County standby, serving up classic hard rock like AC/DC and Metallica to more recent music from System of a Down, Disturbed and Velvet Revolver. About a month ago, longtime program director Scott Less left 101.7 the Fox for the Pacific Northwest, but apparently, even prior to Less' departure, a "skeleton crew" had been running things with barely any financial support from Maverick Media.
Based in Connecticut, Maverick Media are the same people who thought it would be a good idea to fire Steve Jaxon, one of the greatest DJs in Sonoma County, and who aren't available for comment (their website has been perpetually "under construction" for well over a year). Located over 3,000 miles from the station's Fox Plaza, they've seemed perpetually out of touch with what Sonoma County actually wants, and have now killed the station that gave the building its name. (Right now, they're playing Britney Spears, "Womanizer.")
The employees of the Fox have been told that they'll be able to keep their jobs, but in what capacity exactly is unclear. Currently, Hot 101.7 is broadcasting with no human DJs at all, playing canned tracks on a piped-in feed from corporate headquarters. Sad.