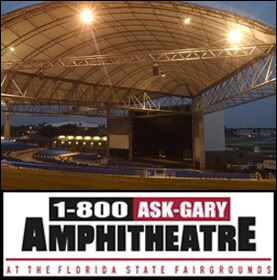 No, it's not a joke. The Ford Amphiteatre in Tampa, Fla. has actually, truly been renamed The 1-800-ASK-GARY Amphitheatre. Good Lord.
As reported by Kim Wilmath and Sarah Hutchins at the St. Petersburg Times, the new name comes from the lowest pits of hell a three-year, $1.1 million deal between the Live Nation venue and a local injury lawyer referral hotline owned by Gary Kompothecras.
The reporters managed to find one person in Florida who was excited about what's clearly the stupidest venue name in America. That'd be a "close friend" of Kompothecras who goes by Bubba The Love Sponge Clem, and man, when I look for advice on names, he's the guy I consult.
The rest of the folks, including the venue manager himself, could only offer somber reminders about the economy and the venue's financial straits, which is what every single venue says while forcing the music-loving fans of their community to utter words of complete shame when talking about going to concerts.
Let's repeat it, just for effect. It's called the 1-800-ASK-GARY Amphitheater. Say it out loud. I dare you. We out here in the Bay Area have had to live with AT&T Park, the Oracle Arena, the HP Pavilion, Network Associates Coliseum and plenty of other horrendous corporate names, but this is without a doubt the worst venue name in history.
To the people of Tampa, I send my deepest condolences. Really. I'm truly sorry for you. And your children. You don't deserve this. The rest of the nation is laughing at you, and it's not your fault.
So I have some advice.
Do like we do in California when this type of insulting malice is foisted upon the public and simply refuse to acknowledge it. Call the place The Amp. "Whatcha doin' Friday night?" "Oh, going down to the Amp to see Rihanna."
And if that doesn't quell the resentment? I can't officially recommend breaking laws of any kind, although I will point out that spray paint is cheap and venue signage is accessible. Do with this information what you will, Floridians.