Bare midriffs, sandals and burning sage galore! I stopped by the Harmony Festival tonight just in time to see a guy recite a song about hacky sacks, a clown-nosed Wavy Gravy ramble about yippie tomfoolery from 1968, and Dweezil Zappa lead his band in "Peaches En Regalia" while girls in fishnets and angel wings twirled near the pulsing lights. Later, over in the Grace Pavilion, the Jazz Mafia took the stage with 'Brass, Bows & Beats,' which you can read about in this week's Bohemian column. "I wanna say thanks to the Harmony Festival," said Adam Theis before the opening notes of his hip-hop symphony, "for taking a chance on something different."
Theis is an avid skateboarder who always takes his board on tour; "if you don't," he told me, "you end up pulling up to the venue and there's a skatepark next door." That was the case tonight, since Jon Lohne and the rest of the Brotherhood Board Shop crew have assembled a mini-ramp and street course behind the Grace Pavilion. There's even a VW bug car jump! But the real treat, at least to anyone who skates, is the fact that John Cardiel is DJing. No shit.
The beginning of the great Vice documentary Epicly Later'd: John Cardiel shows Cardiel in his room, flipping through Barrington Levy 45s and talking about how everyone expects him to like heavy music, like Slayer, to match his intense skating style. "I mean, I love Slayer, I love hard music," he says, "but really, where my heart's at, if you want to talk about some shit, let's talk about some reggae."
Tonight, Cardiel spun reggae and hip-hop records on a small stage next to the mini-ramp while festivalgoers in all manner of ridiculous costume walked by. Here's one of the most influential and inspiring skaters in recent history, whose career was cut tragically short when he was accidentally run over by a trailer in Australia, DJing in Santa Rosa! Earlier in the day, fellow skate legend Ray Barbee played a 45 minute jam on the same stage, wailing on a Gibson guitar. Omar Hassan's there tomorrow, and hell, even Tommy Guerrero is gonna be skating there on Sunday, so who knows what kind of musical mayhem will go down?
Click here for a full .pdf schedule of the skate area events.
More Photos Below.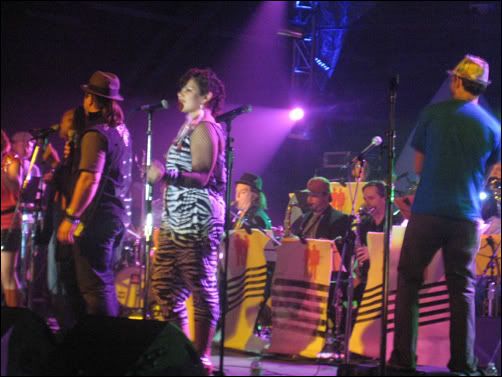 The Jazz Mafia! Now added to a list of people who've played the Grace Pavilion that includes Bob Dylan, Richard Marx, Dolly Parton, Pitbull and Marky Mark.
The camping option is a surprisingly popular one.
Hooray! Man, back when it was called the Health & Harmony Festival, you couldn't find greasy sausages or fat burgers anywhere.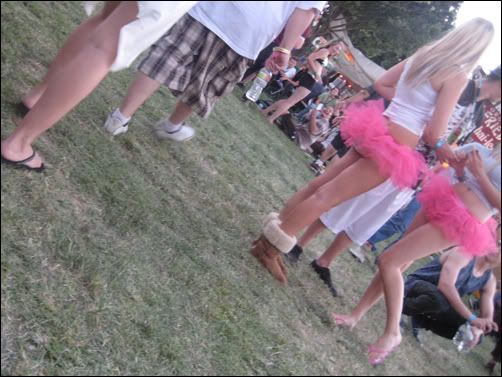 Even the accidental photos reveal some deep-rooted truth.