I am a sucker for conceptual art. Draw a mustache on the Mona Lisa or sign a pseudonym onto a men's room fixture (looking at you, Duchamp), and I'm there for it.
This is why Napa Valley's The Setting Inn made such an immediate (and joyfully abstract) impression on me. It starts with a frame—an empty picture frame, to be precise, which is the leitmotif of the venture's branding.
From wine labels to the Instagrammable outside edifice—a massive picture frame where one can frame oneself in a selfie—the frame, by virtue of its emptiness, contains everything.
And yes, I read like an art school dropout who drank too much wine—you caught me. But I'm also someone who appreciates understated luxury, clean lines and thoughtful design. If you do as well, this historic boutique hotel is the place for you.
It starts with the location. Though technically Yountville, the inn is situated off Highway 29 (the valley's main drag), equidistant from most local attractions. That is to say, guests feel like they're visiting the platonic ideal of Napa Valley, in addition to being in one of the finest burgs that makes up the area.
Realized from a rebuilt 1901 farmhouse, The Setting Inn reopened in June 2019 after renovating and rebranding. The main building has spacious Signature Queen and Deluxe guest rooms, all with private terraces and views of the vineyards and the Mayacamas Mountains. Likewise, a two-bedroom, two-bathroom cottage is also available.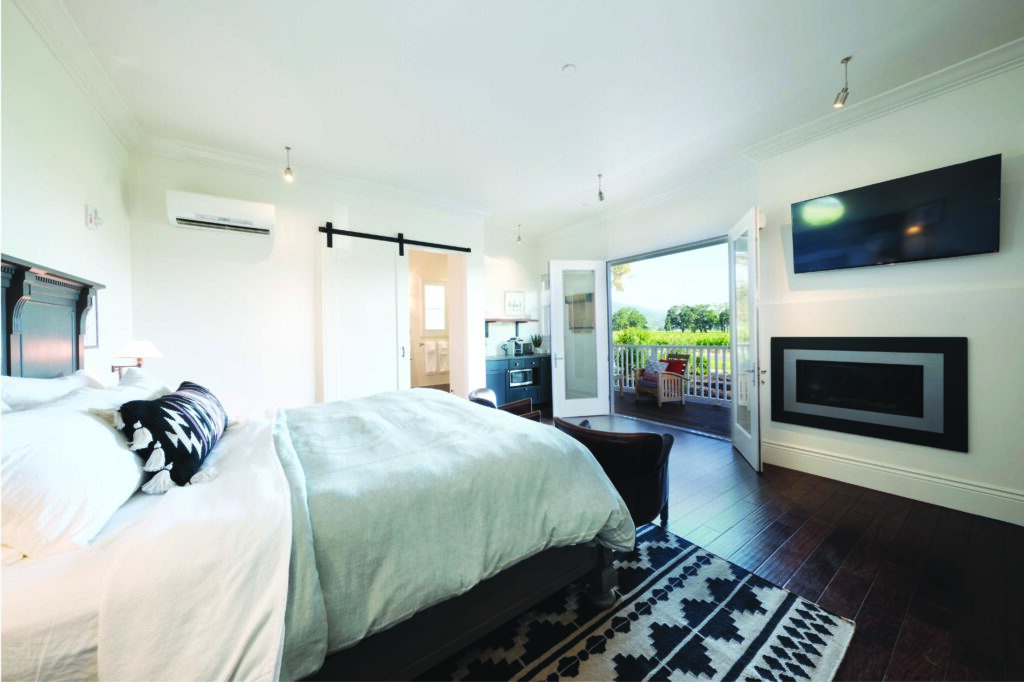 Each accommodation is well-appointed with fireplaces and handsome soaking tubs, heated bathroom floors, Nespresso coffee makers (or Napa Valley Roasting Company custom blend coffee if you prefer), LATHER Bath amenities, and robes and slippers. Did I mention the Bouchon Bakery pastries that are delivered to your door each morning? And, of course, the interior decor boasts at least one wall with a signature empty frame.
Other amenities include complimentary on-site parking, WiFi, a boutique-sized fitness center replete with Peloton bike, lawn games and electric bicycles for cruising the bike paths that run parallel to the frontage roads lining the highway and transverse the valley.
The highlight of a recent stay was an evening experiencing pure Napa Valley hospitality—a private tasting in "The Barn," a hip, on-site tasting room that trades pretense for casual comfort.
Naturally, The Setting Wines portfolio is superb—a pantheon of beautifully crafted Bordeaux-style wines by acclaimed winemaker Jesse Katz, including high-scoring cabernet sauvignons (as one might expect from Napa), as well as finely-hewn pinot noir and chardonnay and sauvignon blanc offerings.
In short, The Setting Inn is serene, pastoral and private. It invites visitors to experience Napa Valley on their terms without the crowds, lines or pressure, which makes for a restful and refreshing stay sure to improve your frame of mind.
The Setting Inn, 1205 Hillview Lane, Napa. thesettinginn.com. 707.927.3909.