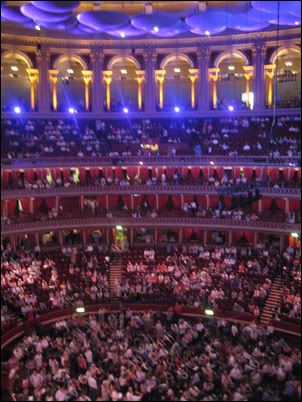 London.
A city so terrifically entrenched in the past and yet so ahead of us in a million little ways. Music in London, especially, is such a silly thing. Robotic techno songs dominate the Top of the Pops and yet they use Ernie K. Doe's New Orleans funk classic "Here Come The Girls" to sell shampoo on BBC 2. There's no less than 26 different subgenres of House in every record store (Post-House, Funky House, Classic House, Post-New-York-Jazzy-House, ad nauseum) but then they sell De La Soul's 3 Ft. High and Rising on vinyl for, like, four bucks. Primal Scream is still popular.
I walked over to Cargo, a club I went to eight years ago to see Coldcut and the Herbaliser, to stop in and see Ratatat. Sold out. I don't like 'em that much anyway, but I lingered in the bar area and listened through the curtain for a while, reading the club's little newsletter. Just when I couldn't fathom why Ratatat was so huge in England, there it was on the flyer: "Daft Punk fancied them to open on their recent tour!" So I wandered back to our hotel, passing Favela, a club blaring Brazilian Baile funk, a pub with Vampire Weekend on the stereo, and numerous multimedia street murals. Banksy's influence is everywhere, even though Banksy himself is passé. Everyone I talk to hates his guts.
Stopped in at Rough Trade to visit my old friend Sean Forbes, who incidentally is one of the funniest people I have ever known. We record store types tend to stick together, providing crucial information like which shop in town might have a copy of Thatcher on Acid's The Illusion of Being Together 12″, or how many copies of the A Touch of Hysteria LP might still be left. He filled me in on the goings-on of London friends, like my old pal Ben Corrigan, who had the Black Keys, Joanna Newsom and the Kills all play at his deliciously debaucherous wedding last month, and Jamie, who I miraculously hadn't noticed from the glut of free tabloids everywhere in London is now dating Kate Moss.
Because most of my European travels thus far have involved being on tour with bands, I haven't seen a lot of things that one "should" see over here. I've been to Rome twice and have never seen the Colosseum. Likewise, I've been to London a number of times but had never been to the Royal Albert Hall. Ever since Sgt. Pepper's, when I was 10, and on up to The Man Who Knew Too Much and even into The Odd Couple Sings, I've had a longstanding back-burner fascination with the Royal Albert Hall. So it was with a great deal of excitement that I bought tickets, way up in the nosebleeds, for just 6 pounds each, to the BBC Proms at the Royal Albert Hall last Wednesday.
90-year-olds tailgate the Royal Albert Hall. Seriously. There was a gang of them in the parking lot, silver haired, diamond festooned and pouring champagne for each other before the show, against a fence.
Inside, the place is unbelievable. No photo could do it justice. We were in the very last row, with a full view of the building. I was pleased to see that the large floor was full of people standing up. Apparently the Albert Hall keeps the Globe Theatre tradition alive, where the standing-room cheap seats are closest to the stage—which is the way it should be, in my book. The program opened with the William Tell Overture and ended with Elgar's first symphony, sandwiched with Haydn's Cello Concerto No. 1, and I couldn't have been more juiced. Check it off the list, Jeeves.
—–
Avoid: Basshunter – "All I Ever Wanted."
Pursue: The Ting Tings – "That's Not My Name."
Next Stop: Dublin via Bras-d'Asse.
Borrowed laptop battery: nearly dead.