First of all, the prize of the night I think goes to the young kid in a wheelchair who, while his friends formed a wall around him to guard him against flailing bodies, tilted his head back and sang along to every line of "Born to Die."
Never mind that MDC slowed the song down to half-speed, or that they changed the lyrics to "I Remember," or that they said fuck it to the iconic bass intro to "John Wayne Was a Nazi," or that they sang entirely different lyrics to "Chock Full of Shit," or that they kinda mangled "Chicken Squawk" or that in fact they played their first five songs acoustically. MDC were still great, and despite revisiting just about all of side one of their first and best album, 1982's Millions of Dead Cops, they didn't have the pathetic reliving-the-past feel like so many other old punk bands still on the touring circuit today.
Personal data: Dave Dictor is almost as old as my dad.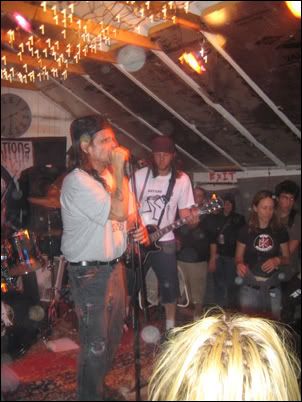 "I spent most of the late '90s in a methamphetamine haze," Dictor announced to the crowd, about 4 or 5 songs into the set. "Walking around the streets of San Francisco, wearing this big yellow rubber poncho, pushing a shopping cart. Those were my peeps. But you know, I got into rehab"—spitting out the word like it was an obscenity—"and got myself straightened out."
How could we have not guessed that Dave Dictor was gay? "America's So Straight," "My Family is a Little Weird," his flamboyant costumes and incessant prancing around on stage in the '80s? "There've been people coming up to me tonight," he told the crowd, "reminding me about playing the Cotati Cabaret in 1988. And apparently I took all my clothes off, and traded underwear with a girl." See?
Personal data: One of the first songs I learned on the guitar was the entire flamenco solo intro to "Chock Full of Shit" from Millions of Damn Christians.
Even when MDC ditched their acoustic guitars and started playing loud, it still wasn't, uh, "loud." But listen to their records—they're not loud either. MDC: the sheep in wolf's clothing. They always were kind of a hippie band. The message of health food and sustainability in the liner notes to the Millions of Dead Children 7″? Ahead of its time.
Some guy brought a zucchini the size of a bazooka from the gardens and stood in front of the stage, beaming. It wasn't long before it wound up smashed and battered on the floor under the shoes of the pit. "My mom always told me not to play with food," quipped Dictor. The pit wasn't too out of control.

Personal data: One of the first shows I ever went to, at the River Theater in Guerneville, was MDC playing with All, Nuisance, and a very young and very stoned opening band called Green Day. It was September 23, 1989. I was 13.
I wandered outside near the set's end. MDC has a reputation for playing long-ass sets, and I figured I'd try to stave off potential boredom. Plus there was some crazy acoustic music emanating from the campfire, like there usually is, so I walked over and there it was: a bongo player, a trombone player, a saxophone player, and a beatboxer. A small kitten meowed along. The Boogie Room is amazing. Amazing, I say!
Quotes of the Night:
Young punk girl, with a cigarette, to a mellow-looking guy in blonde dreadlocks: "Hey! Are you the hippie who told me not to smoke?"
40-year-old guy to MDC's drummer, before the show: "I graduated in '86, and I listened to you every day! You guys are the best, man!"
Guy to another guy, outside after the show: "Consider that you might not be allowed to come back here, okay?! Do you realize what you're doing?"
Girl, leaning out of her car: "Hey, do you want to punch me in the face for $8?"
And it's not a quote, but I'm always heartened—I don't know why, I'm too young to legitimately care—to see a Jak's jacket in the throng:


I bought a Millions of Dead Cops cassette for $5 and walked back to my car. Came home and listened to Horace Silver. The next morning, I smelled like shligs and had weeds in my hair. Right on.