I had heard about Marnie Stern's Kissing Booth idea a couple hours before tonight's show with Gang Gang Dance in San Francisco, and sure enough, when we arrived at Bimbo's, we discovered this sign at the merch stand: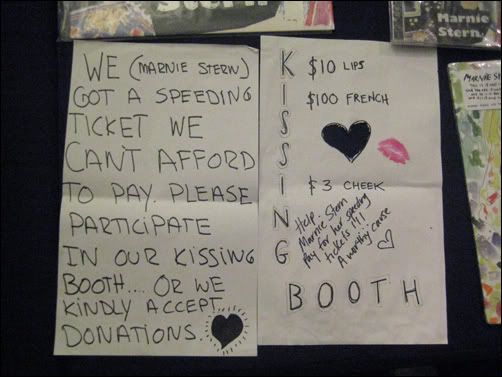 Now that's what I'm talkin' about!
Apparently, in addition to the speeding tickets, some seatbelt violations were involved as well, which can get pretty expensive ("Michigan, man," said Stern). Discriminating kissers will note the detailed price breakdown: $3 for a peck on the cheek, $10 for full lips, and $100 for the big-spender French kiss.
So — were there any takers?
At the end of Marnie Stern's set, a sizable group of people crowded around her side of the stage, declaring their love and asking for hugs. But to my dismay, I went out in the lobby later on and witnessed a similar group of people just, uh, standing around. And though the kissing offer was literally on the table, they were just, uh, awkwardly talking to Marnie Stern. And, um, buying a shirt, I guess. And, do you. . . think I could have another hug?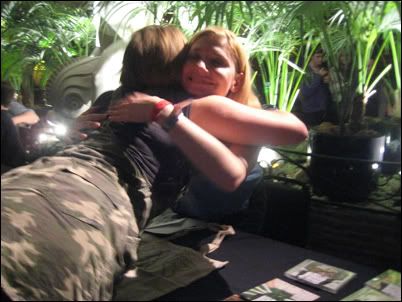 It was excruciating. Goddamn indie hipsters are a bunch of pansy-ass Holden Caulfields who can't get over their own imagined degradation of giving a girl $10 for a kiss, I grumbled to myself. Whatever happened to all the fun in the world?!
But after about 10 minutes, a good sign walked into the room. To be precise: a tall mid-20s boy, with a slender face and large eyes. Lanky, plaid shirt. He approached the table and conspicuously pointed to the sign.
"Is the kissing booth open?" he asked.
Finally! Marnie Stern jumped up, pointed her arms in the air and let out a "whoo-hoo!" while doing a small, excited dance. A customer!
The boy pointed to the "lips" option, and handed a $10 bill to Stern, who was more than willing to deliver the goods. Boy, did he get his money's worth: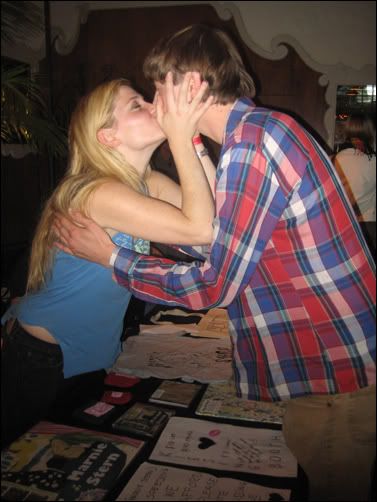 Yowza!
I chased him down afterwards. "I had to," he told me. "She's beautiful, you know? It was awesome." He was beaming from ear to ear.
Please, indie rock nation: more kissing booths!