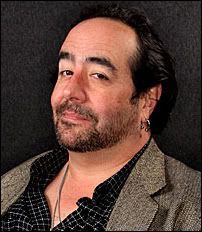 And so Steve Jaxon has been let go from KSRO. My colleague Daedalus Howell writes an excellent overview in this week's Bohemian about the circumstances surrounding his departure, which in a nutshell, is this: Some suits from Maverick Media's parent company in Connecticut came out to Santa Rosa, took a look at the station's finances and said, "This guy makes too much money. Get rid of him."
It's a sad story about local media that's not locally owned. Out on the East Coast, KSRO's new owners simply had no idea how he's completely transformed that little station into a vibrant central hub of up-to-date information and community discussion. They just let him go.
I'd like to say KSRO will weather the media landscape without Steve Jaxon. After all, it's Santa Rosa's longest-running radio station. Old-timers will remember when KSRO's studios sat at the corner of Humboldt and College, a building that's now George Peterson Insurance. Open up copies of the Press Democrat from 1938, and you'll see daily program guides for 1350 AM. KSRO even made a cameo in The Birds—one of those inimitable moments of Hitchcock's attention to local detail.
But without Jaxon, the birds will be circling at KSRO. When he came on The Drive, everyone tuned in—it was like hearing the pulse of the county each afternoon. You'd hear candidates in the supervisors' race. You'd hear movie theater owners, authors, local schoolteachers. You'd hear a band playing on the air, or a four-star chef talking recipes. Anything that happened in town, Jaxon would seize the moment and get key people in the studio to tell their stories with the personality and imagination only the radio can supply.
How did he do it? Jaxon just has a certain magnetism, a cool detachment which inspires guests to loosen up and talk freely. Case in point: Once, while I sat in, he remarked to the listening audience that he had ice in his pants. I thought it was a joke, but then he cut to commercial and pulled a bag of ice out of his pants. How can you be uncomfortable around a guy who's totally comfortable having a bag of ice in his pants?
I often brought in weird reminders of history the few times I came on Jaxon's show. "Jaxon and Wells" were the first radio DJs I ever heard growing up in Santa Rosa on the Top 40 station of the '80s, 93-KREO, and a few years ago, I actually unearthed a 93-KREO bumper sticker. I promptly stuck it on my car. One of my proudest moments was leading Jaxon and Wells out to the station parking lot, to my car, to show that someone actually still cared about KREO.
Another time, I whipped out a KSRO letter-opener from the 1950s, seen above; later, I brought in a vinyl rip of Jaxon's old band, The Mix, and secretly gave it to his producer Mike DeWald to play as surprise bumper music. I was looking forward to the next time I sat in so I could play a KREO commercial I recently discovered on a cassette tape, but oh, what the heck, I'll just embarrass him now. Here's Steve Jaxon starring in a weird-ass commercial for Muffin Street . . . in 1989!
[display_podcast]
Anyway, best of luck, Steve. Hope you land on your feet.