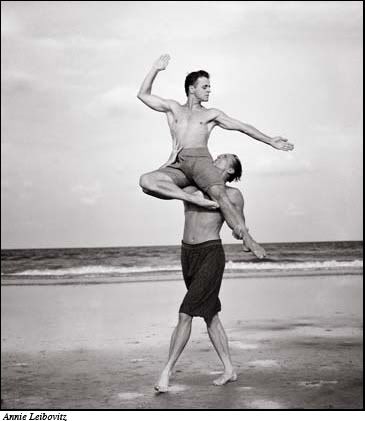 I wasn't planning on stopping by the Annie Leibovitz exhibit at the Legion of Honor, A Photographer's Life: 1990-2005, but I'm glad I did, if only to now have the authority to say that I shouldn't have. It's a very personal collection, burdened with the weight of death, and though there might have been some emotional strength that went into its assemblage—at least in the many photos of her dying father, her dying lover, and the birth and growth of her two children—I was neither wowed by its artistic merit nor moved by its naked storytelling. The overtly "revealing" timbre of the exhibit, in fact, reminded me of Lauryn Hill's indulgent Unplugged album, which is a total piece of "this is the real me" crap that no one ever wants to suffer through again.
Visitors gathered instead, shoulder-to-shoulder, in the exhibit's sadistically narrow "celebrity hallway," packed with hundreds of tiny prints and magazine pages of Leibovitz's famous photos. Likewise, there was much crowding around larger photographs sprinkled throughout the exhibit; of the famously pregnant Demi Moore, of Johnny Cash on his porch, of Queen Elizabeth II without her crown. And there was surely lots of talk, on the fifth anniversary of the Iraq war, around Leibovitz's 2001 "Evil Empire" photograph of Bush, Cheney, Rice, Powell, Rumsfeld, Card and Tenet.
Many of these photos, and especially the gigantic landscape prints from Monument Park and Venice, are dazzling, and contain insightful and often sardonic descriptions by Leibovitz about her process (remarking on her portrait of Richard Avedon, she essentially says that Avedon knew how to take portraits correctly and that she still does not). But there's an extreme sense of disconnect with the many, many personal photos, the banal explanations of which are like a very dull person's slide-show commentary—"We went here. We did this." The show's accompanying $75.00, eight-pound book hopefully offers some more insight, but the choice of letting the viewer make up their own mind about these images is misguided.
At the end of it all, I can say two things. 1) I still really like Annie Liebovitz quite a lot, and 2) If I have to look at another photograph of Susan Sontag, I am going to throw up.