My assignment this week was to write a piece about the monumental storms that packed a wallop in Marin and Sonoma counties, but I needed a break from bad news.
Fortunately, I found a heartwarming story about a fairy, a stranded motorist and a bunny on a flooded road during a downpour.
To satisfy my editor, let me get this out of the way: The first 18 days of January delivered more than 22 inches of rain to Marin, while Sonoma County made it onto President Joe Biden's list of areas eligible for FEMA funds. It was a mess all over the Bay Area, with flooded roads, mudslides, toppled trees and power outages.
Still, none of this discouraged Marcy Berman from braving an atmospheric river last week to transport a domesticated bunny named Lady Gray to a foster home in Muir Beach.
Berman, director of the nonprofit SaveABunny, admits she saw standing water on the road, but thought her truck would plow through it. After all, Lady Gray, a rescued rabbit disabled from severe neglect, required specialized care from the couple at the other end of the flooded street.
A driving miscalculation landed Berman's truck stuck in the mud on the side of the road, tipping precariously, with the water continuing to rise ever so slightly.
"We were really at a steep angle," Berman said.
Standing less than five feet tall, Berman considered the depth of the water and her chance of carrying Lady Gray and the bunny's accoutrements to safety. She decided to stay in her vehicle, where she could keep the heat on for her paralyzed passenger while she called for help. West Marin's spotty cell service put a kink in that plan.
Two surfers came by and tried to push the truck out of the mud. No go. Then a fire truck rolled up; however, Berman, determined to get Lady Gray to the medical foster home, told the firefighters that she was fine.
Some might question Berman's stubbornness at this juncture, yet it's through her tenacity that SaveABunny has rescued 5,000 rabbits over the last 24 years. She wasn't giving up on this one.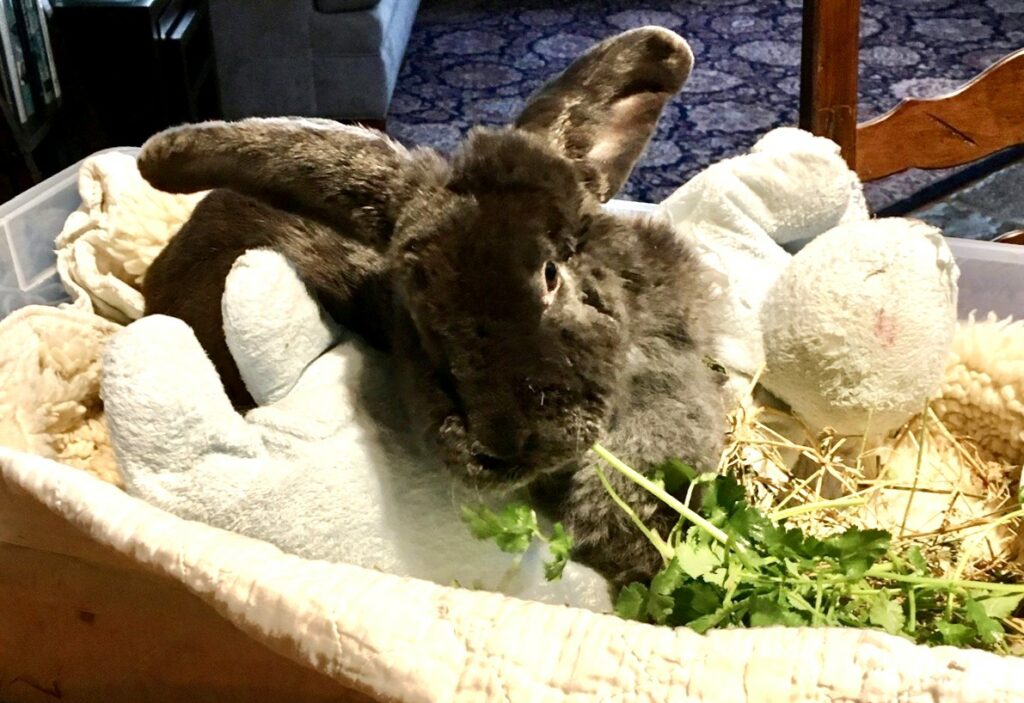 "I just let go and asked the universe for help," Berman said. "Ten minutes later, a pretty blonde lady with a lovely accent shows up in an SUV. A fairy."
Not only did Penny Macphail's ethereal beauty and Irish lilt inform Berman that her rescuer was otherworldly, but a sign on the SUV confirmed it: "www.goodfairy.org."
Indeed, Macphail is a real-life good fairy. Although she ventured from her home in Sleepy Hollow on this stormy day to swim with her dog at Muir Beach, Macphail wasn't surprised to happen upon someone who needed to be saved.
"I run a nonprofit called Good Fairy that matches volunteers with people who need help," Macphail said. "The funny thing is that I am constantly rescuing people, because once you start looking, you see people in need."
Good Fairy has helped hundreds of people since its inception three years ago, but Macphail herself attracts those in need. She recently found a five-year-old boy at a gas station after his father accidentally drove away without him. It seems she's always in the right place at the right time, which is even more remarkable considering she's disabled with limited mobility.
"I'm seizing the day and making the best of everything I can," Macphail said.
Together, on the flooded road in the pouring rain, the two women managed to move the bunny and her supplies into Macphail's SUV and then to the medical foster home.
One will never know whether Macphail appeared because Berman wished for her or because Macphail keeps an eye out for anyone needing help. Either way, both say they wholeheartedly agree with the other line on the sign on Macphail's vehicle: "I believe in fairies!"