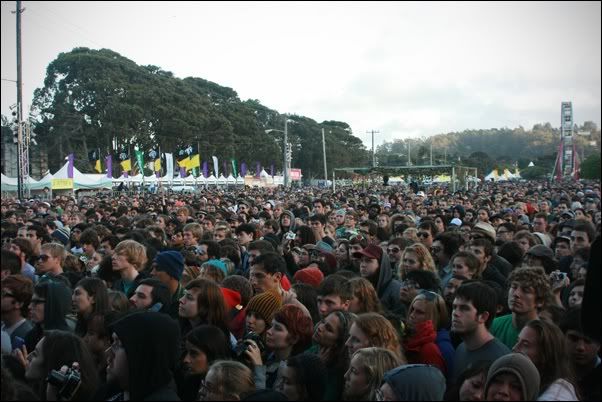 The lineup for this year's wingding at Treasure Island has been announced. Lest I sound like a broken record, writing about previous year's fests here and here and here and here and here and here and here, I think Treasure Island is really the perfect festival for people who hate festivals—it's small, it's manageable, it's scenic as hell and the only corporate sponsor is Heineken. Historically, it's also boasted a lineup usually way more impressive than other festivals, catching bands on the ascendant wax instead of the sad wane.
That's mostly the case again in 2010. Here's who's playing:
Saturday, October 16
LCD Soundsystem, Deadmau5, Kruder & Dorfmeister, Miike Snow, !!!, Die Antwoord, Little Dragon, Four Tet, Holy Fuck, Phantogram, Jamaica, Wallpaper, Maus Haus
Sunday, October 17
Belle & Sebastian, The National, Broken Social Scene, She & Him, Superchunk, Rogue Wave, Surfer Blood, Ra Ra Riot, Monotonix, The Sea & Cake, Phosphorescent, Papercuts, The Mumlers
LCD Soundsystem has put out one of this year's best records, so they'll make a memorable headliner. Kruder & Dorfmeister, who are billed specifically as "Kruder & Dorfmeister (LIVE)," should probably just play all of K&D Sessions. Expect Jerry Fuchs shout-outs from !!!. Weirdly, Die Antwoord is way down on the schedule even though their show at the Rickshaw Stop was fetching $150 for tix; expect the stage to be mobbed.
I really feel like the bombastic, festival-perfect Broken Social Scene should be headlining Sunday instead of Belle & Sebastian. M. Ward makes a festival reappearance with She & Him, Monotonix is going to wind up banging on drums while hanging from the motherfucking Ferris wheel, and Superchunk really should have booked a club date instead of playing a truncated festival set, but what can you do?
Two-day tickets are available now for $120; single-day tickets go on sale on Friday, July 16. All da deets over at the offish fest site.