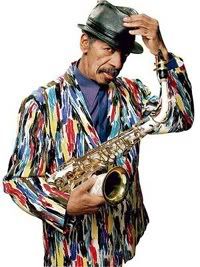 Every year, SFJAZZ puts on so many shows, all around the city, and it can be kind of daunting for a casual jazz fan to decide which ones to attend—especially those living in Santa Rosa, where attendance means am hour's drive plus gas and bridge toll. The new season starts this week, and everyone's got different tastes, but here's my whittled-down list of the best five SFJAZZ shows this fall.
Nov. 8: Ornette Coleman at the Masonic Auditorium
Beg, borrow or binge—whatever you do, see Ornette Coleman. His history doesn't need to be recounted here; what you need to know is that he still sounds as creative and vital as he did fifty years ago. Seriously, you will not believe that he's 79 years old. He plays with two basses—one bowed, one plucked—and his son, Denardo, on drums, with whom he's been playing since Denardo was 12. Expect to be left speechless.
Oct. 31: Marco Benevento at Yerba Buena Center for the Arts
I first heard Benevento playing wildly on a 35-minute song by Zach Hill, the drummer for Hella; he, along with Ethan Iverson, represents a trend of assimilating indie rock into jazz. Live, Benevento manhandles a group of pedals and effects with his trio, which keeps one foot in the "jam" world. Bonus: the ticket price is on the low side and the venue is nice and small.
Nov. 4: Trio 3 at Swedish American Music Hall
I make no reservations about recommending these three and their intuitive magic created together. Reggie Workman's resume with John Coltrane and Wayne Shorter speaks for itself; Oliver Lake is a mammoth tenor player and Andrew Cyrille spent 11 years backing Cecil Taylor. If you can't make it to their show in Healdsburg, do yourself a favor and head to the wooden-interior Swedish American Music Hall.
Oct. 23: Gonzalo Rubalcaba Quintet at the Herbst Theatre
I've had a cassette of Rubalcaba's Discovery: Live at Montreux in my car for a month now, and have not tired of it in the slightest. This show is with a quintet—the same guys on his last album, Avatar—and he fuses Cuban music and jazz in a decidedly artistic, and not commercial, fashion. Always worth seeing.
Oct. 30: Nicholas Payton & Don Byron at Grace Cathedral
Part of SFJAZZ's "Sacred Space" series, where artists perform solo in Grace Cathedral and utilize the incredible seven-second echo attainable from the towering ceilings. Payton is most likely to work the room with sharp trumpet punches and high wails in the New Orleans tradition, while Byron specializes in Eastern scales on the lower-register clarinet.
For more lineup information and tickets, see SFJAZZ.