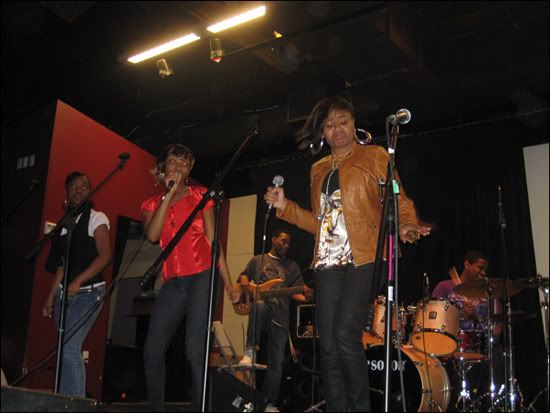 Halfway through "Swagga Like Us," Torman Jahi hopped on stage at the MYC, got the people on their feet, and then passed the mic one by one to a group of young rappers for a full-on all-ages posse cut. Some of 'em killed it, some of 'em rapped the alphabet, and some essentially trainwrecked, but all of 'em got cheered. Come to think of it, the guy who trainwrecked got cheered the loudest.
This is the philosophy of the MYC, or Marin Youth Center, in San Rafael. Everyone gets a shot, and everyone gets support no matter what. This would be laudable enough by teen center standards, but there's the extra added benefit that the shit happening at the MYC is actually completely cool. Forget cookies and punch; over the last two years, they've been hosting jazz groups, school-of-rock band camps, hip-hop sessions, recording workshops, acapella groups, art programs, breakdance troupes, cooking classes and far, far more.
On Friday night, the MYC opened the doors in downtown San Rafael and invited the public for an open house. It's got that Emeryville loft thing goin' on, with exposed rafters and ducts in the main performance room. Elsewhere, the walls boast posters of Malcolm X, bulletin boards warning of the dangers of smoking, a framed certificate for the current champion of the pool table, and tons of photos chronicling the varied activity that takes place here. It's a new building, with a tinge of the municipal. That feel will surely and eventually lose out to the very communal and cutting-edge spirit of the place.
The band, from the Oakland School of the Arts, was ruling it. Three female singers with stellar pipes, all still in high school. Three guys on bass, drums and keys, layin' it down on covers of "American Boy" and "Crazy in Love." To close the night, 'Til Dawn, an acapella group who rehearses at the MYC, took the stage. They sang "Tell Me Something Good," "Steal My Kisses" and "Something to Talk About"—and were great. As I left my too-brief visit, kids with cameras ran back to the high-tech studio to edit their video footage while visitors and young staff were clustered around a pool game, dancing and singing "Ms. Jackson."
I know it must be a common reaction, but where was this place when I was a kid?
More photos below.