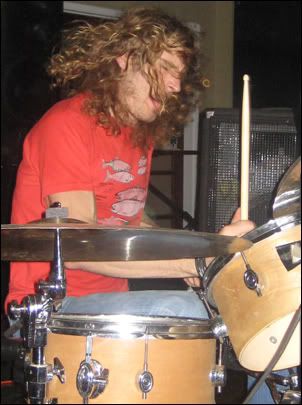 I had been wondering how Zach Hill would pull off his solo album, Astrological Straits, in a live setting. With over a dozen guest musicians on his album, would he hire a pick-up band? Would he try to play more than just the drums? Would he call up Les Claypool and ask if he'd mind driving down to Santa Rosa to fill in?
The Casbar is the new joint in town, located inside the Days Inn way down on Santa Rosa Avenue, near Todd Road. It's a funky location for a funky room—black lights up in each corner, an absinthe green light emitting from the bar, a hazy red near the stage. It's dark, dank, and seemingly underused, but as Ian told me out in the parking lot— referencing the eternal need for another venue—"Everyone's gonna pounce on this place."
After Epiphany Music was shut down in 2007, the former owner, fresh out of jail, somehow convinced the Days Inn to let her put on a show here, calling it the "New Epiphany." It went rather poorly, and the folks at the Days Inn (they used to run the Los Robles Lodge, putting on the Liquid Lounge nights there and a few in-over-their-heads rap shows at the Fairgrounds) apparently waited a year and a half to try again. I'm glad they did.
The best thing about the Casbar? Those not old enough to drink get a handstamp. Those old enough to drink get a wristband. Everyone wins. Why this hasn't been done before in Santa Rosa is beyond me, and I sincerely hope that it doesn't become an issue for the litigation-happy City Attorney's office, because it makes perfect sense.
Hill and I talked a little bit about Cecil Taylor before the show ("he's a big inspiration"), and it foreboded his set. Setting up two large speakers on either side of his small drum kit, Hill played the entire 33-minute-long piano-driven bonus track from Astrological Straits, "Necromancer." Marnie Stern's spoken word bookended the fierce, pounding piano attack by Marco Benevento, and it didn't sound at all unlike Taylor's famous 1979 set with Max Roach at Columbia University.
How the hell does Zach Hill play drums so quickly, so fiercely, so insanely?
Here's the thing. Sure, Hill played the shit out of the drums nonstop for a half hour, never letting up at all, but it wasn't unnecessarily violent. Every piece of the puzzle made some kind of sense, and every riptide fill had its place. Like a cross between Dave Lombardo and Philly Joe Jones, Hill exhibited stamina and taste, with a sense of actually communicating something in his playing. I was never bored through the entire volcanic set.
Afterwards, there were literal puddles of Hill's sweat on the floor beneath his kit.