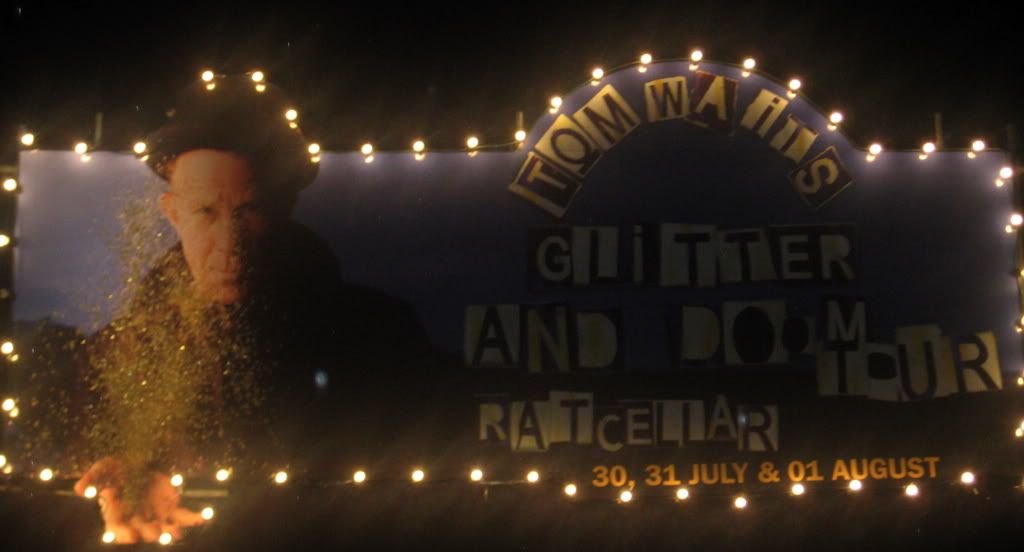 Greetings from the drizzly grey skies of Dublin, Ireland, where last night I saw the greatest Tom Waits show I've ever seen, hands down, holy shit, it was INCREDIBLE.
We actually saw Tom Waits and his wife Kathleen on the street in downtown Dublin yesterday, before the show, coming out of the Georges Arcade. Said hi, kept walking. Running into them on the street isn't such a rare thing back home in California, but it is a truly surreal thing on the other side of the world.
You want surreal? How about a six-tiered circus tent in the middle of a park? 'Cause that's where Waits played last night. Christened "The Ratcellar," it was every bit the Barnum & Bailey spectacle you'd think: purple and yellow stripes, a grand marqueed entrance, red velvet curtains, raked seating on all sides. Built just for these shows, Waits booked three nights here, under the big top.
Tom Waits must really love Dublin. The strolling around town, the building of a special tent, the three-night stand—and undoubtedly one of the greatest shows he's ever performed. Two and a half hours, 26 songs—the set list, below, was unbelievable—and most of the time, he made the enormous tent of 3,000 feel like an intimate parlor. He certainly seemed honored, and more than a little grateful, to be in Dublin.
Tickets to the show were 138 Euro—about $215 each (the highest price I've ever paid for tickets). There was a lot of grumbling about this in Dublin. After the show last night, I can't imagine anyone grumbling about it anymore.

Waits came out to thunderous applause, threw himself and his band into "Lucinda," and we were off and running. "Raindogs" was a good sign right afterwards, and it soon became apparent that the set had changed drastically from the time I saw him last month in Phoenix: "The Other Side of the World," from the film Night on Earth, with an excellent flamenco-guitar solo by Omar Torrez, and "I'll Shoot the Moon" from The Black Rider, with a please-call-me-baby long spiel mocking modern telephone communication. "Your phone is also a camera," Waits quipped, "but my sunglasses are also a tricycle."
"This is a song about family reunions," Waits said next. "I hate family reunions. There's so much family there. All these people I've been avoiding all year show up. . . Uncle Bill, I owe him money. Look away. No, wait, he owes me money! Get his ass over here. And of course, the infamous. . ."—and starting "Cemetery Polka"—"Uncle Vernon, Uncle Vernon, independent as a hog on ice. . . "
"Singapore" wrapped up with Waits falling over horizontally and banging like a kid on the highest keys of a toy piano, ending with a gargantuan gong-like thud that rumbled dramatically throughout the tent, which became the perfect venue for a long, spoken-word freeform about the circus. As the band played "Russian Waltz" in the background, Waits spun taut yarns about carnival characters such as Yodeling Elaine, Funeral Wells, Little Tiny, Poodle Murphy and Tripod ("how he got the name Tripod is another story altogether"). Interspersed with a snippet of "Tabletop Joe," the inspired number ended with Waits shouting, like a howling broken wino, "Leave the bum! Leave the bum! Leave the bum!"
True to tradition, Waits dissected the various laws, both real and imagined, native to Dublin: "A lot has changed since I was here last," he said. "It's now illegal to force a monkey to smoke in Dublin, for example. And it's against the law to get a fish drunk here! I used to come here just for that."
Pointing out that the beginnings to many of his songs sound the same, Waits plowed into "God's Away on Business," one of many newer songs that benefited from fresh arrangements. Being on the road has invigorated Waits' more recent material; they're looser, more open. They breathe more. "Metropolitan Glide," "Hoist That Rag," "Lie To Me"—I saw these songs last month in Phoenix and they've changed, drastically, for the better. "Hoist That Rag," in particular, was amazing, with beautiful Stravinskyesque piano solos by Dublin's own Patrick Warren, possessed electric guitar soloing by Torrez, and blistering saxophone work by a rejuvenated Vincent Henry, playing and joking astride Waits' youngest son Sullivan on second tenor sax.

On the subject of the band, I gotta say, Casey Waits on drums has come through like no one could have ever imagined. Much like Denardo Coleman backing up Ornette, it seemed a novelty at first, back when Casey was 14—but now, Casey's grown into his own, and he's perfect for his dad's behind-the-beat style. Kudos, my friend. And bassist Seth Ford-Young, who came in just a week or so before the tour to replace Larry Taylor, very well may have secured himself a permanent place in the band. He's excellent.
The band was given a break when Waits sat down at the piano to deliver the highlight of the night. "This was a request. . ." he announced. ". . . my own request." A beautiful, beautiful "Tom Traubert's Blues" ensued, to a ridiculously wild standing ovation. It didn't stop there. "On the Nickel," an overlooked gem from Heartattack and Vine, came next, and then "Christmas Card From a Hooker in Minneapolis," which slaughtered the sentimental hearts of everyone in the crowd. He started "House Where Nobody Lives," but then ditched it. "That's a short one," he said, "sometimes the short ones are the best. Why don't we do one we can all sing on?" Alas: "Innocent When You Dream."
"Green Grass" had Waits in a low whisper, while "Lie to Me" brought him strutting around his dusty pedestal. "Dirt in the Ground" was played in a striking new meter, sort of a 6/8 over a 4/4, as Waits loosely whispered the words in a low, ominous tone, and "Make it Rain" became a self-fulfilling prophecy: the tent started pattering away with raindrops from above. Long, drawn-out, and heavenly, the song came to a close with Waits cupping his hands to his mouth and shouting "Make it rain!" back up to the obliging sky. Upon the final chord, a hailstorm of glitter showered down from the top of the tent. "Good night!" said Waits, and as the crowd bumrushed the stage, he made his way across the entire front row, reaching out over the edge and touching hands with the devoted, clearly overwhelmed.
The three-song encore ended with "Time," and there was no more perfect way to end the night—except, perhaps, wandering out into the raining Dublin night with 3,000 other fans utterly dumbfounded with bliss. It was about a mile-long walk to the nearest pub to meet up with our ride, and we were soaked. It didn't matter. Last night was simply one of the greatest shows I've ever been to, and worth every step through every rainy night in any blustery city in the world.

————————
Wednesday, July 30, 2008
Set List:
Lucinda / Ain't Goin' Down to the Well
Raindogs
Falling Down
On the Other Side of the World
I'll Shoot the Moon
Cemetery Polka
Get Behind the Mule
Cold Cold Ground
Singapore
Circus / Tabletop Joe
God's Away on Business
Tom Traubert's Blues
On the Nickel
Christmas Card From a Hooker in Minnneapolis
House Where Nobody Lives (false start)
Innocent When You Dream
Lie to Me
Hoist that Rag
Bottom of the World
Green Grass
Way Down in the Hole
Metropolitan Glide
Dirt in the Ground
Make it Rain
–
Jesus Gonna Be Here
Eyeball Kid
Time