By the time the doors opened for the Thorns of Life show at the Hemlock Tavern in San Francisco tonight, the line of 300 people had completely wrapped around the venue. Only 110 people made it in—including notable attendees Billie Joe and Fat Mike—and those lucky few who got to see the San Francisco debut of the most highly anticipated band of the new year weren't disappointed.
In short? Thorns of Life were beautiful and amazing.
I've written about Thorns of Life before, albeit on a purely speculative basis. I'd refused to watch the YouTube videos, as untainted by advance coverage as possible so as not to deny myself the enjoyment of in-person discovery. Patience is a virtue. The show was outstanding.
My God, the songs are good. This is the first thing that matters. The songs are good, some of them downright blissful. I take back my speculation about Aaron not being able to play ballads. I also take back my speculation that Blake might be retreating to relive a former self circa 1994. I've never been so glad to have been wrong. The songs are good.
Lyrics are a huge part of any Schwarzenbach band, and the ones I could make out ranged from the sentimental ("We tend to fill the void with hope and longing") to the image-laden ("Hari-kari with a Smith-Corona. What the fuck?") to the referential ("We listened to the Velvet Underground, 'Heroin.' And even though it wasn't appropriate, it's such a beautiful song.") to the political ("Al-Qaeda is in Washington, why aren't you fighting them?") (I paraphrase). Blake mentioned at one point that all of his songs were about suicide and unrelenting misery; that he'd now had enough distance from graduate school to look at the subject of suicide objectively, and that he felt a real dialogue needed to occur in society about suicide.
Out of 13 or 14 songs, the band delivered alternating moments of elation, poignancy, humor, dejection, ennui and triumph. One, perhaps called "The First Time," ranks among Blake's best songwriting ever, and he closed the set with a solo song that between its lines about postcards and towers even utilized a harmonica and, after some deserved dissing of the capo, a capo.
When it was all over, I felt so completely and gloriously happy that Blake is making music again. There was a long time there where it looked as if he'd played his last show, and as clusters of exhausted people shuffled past me, smiling and reveling, I savored the annihilation of that worry.
I ran into a friend afterwards who muttered that the crowd was irritating and that too much hype had killed any possible positive experience the show could have offered. I disagree. Yes, people shouted Jawbreaker references ("Hey, look, it's a new band," Blake warned). Yes, there were superfans showing off their pictures taken with Blake. Yes, it was a miracle if you could get in. Yes, some people got a little too excited and drunk. Yes, Fat Mike hopped on stage afterwards to talk to Blake and Aaron, presumably about recording. Yes, there were tons of cameras out when the band hit the stage. These things happen.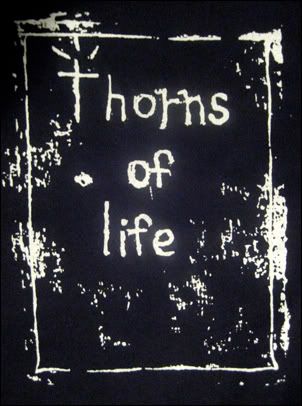 But hype that forms inorganically with no actual basis can be smelled like the shit that it is from a mile away. The atmosphere surrounding Thorns of Life is different in that it's based on something very real. To wit: A huge subculture of people, all with a longstanding personal connection to the music and writing and art that Blake and Aaron and Daniela have created in their time. I don't believe for a second that the majority of people at the show were there because it was the "it" thing to do. I believe that most people who were there—people like Kyle, Avi, Brian, April, Tony, Brandt, Chris, Billie Joe, Jerry, Haley, Ivy, Jason, Fat Mike, or Martina—most of these people are fans, just like me, who have followed and loved and been touched by great art, and who are compelled to check in and see what the creators of that art are up to.
As for the couple hundred people who got turned away tonight at the door, rest assured that what Thorns of Life are up to is thrilling and great, and they more than live up to the intense curiosity that so many people understandably share.
——–
UPDATE: Thorns of Life played four days later at Adam's basement in Santa Rosa; my interview with Blake is here.