There is nothing quite like walking through the doors of the Phoenix and being blown away by a completely unknown band. Porcelain People, a group of teenaged musicians playing sophisticated-beyond-their-years songs with a  casualness reminiscent of 1970s Manhattan, played their second-ever show tonight at the Phoenix, and were transfixing.
The lure as a young band playing the Phoenix is to saturate all possible frequencies, and yet everything about the Porcelain People is compact. The drummer hits quietly, while the bass and guitar are played through amplifiers measuring roughly 14″ tall. Harmonies are sung by a boy and a girl, together, and their naturalness is only magnified when the two voices fall short of matching up exactly in time—as was the case with the band's cover of Bright Eyes' "Lua," which Sean, the guitarist and Lou Reed-like singer, read from a piece of paper on the floor.
Perhaps the apex of their set came at the end, when Mary, the other singer, introduced "Bhopal Beauties." Written as a sympathetic lament for the residents of Bhopal, India in the wake of the Union Carbide pesticide plant disaster of 1984, the slow-paced song captured the sickness at realizing inhumanity without being didactic: "Love her as she laughs," Mary sang, "Love her as she laughs," over and over, as the song and the band's set came to a solemn close.
Sean, 17, tells me that Porcelain People have only been a band for three months, formed after several of them played in a goth band called Spacemen of the Planet Echo. They practiced just once for tonight's show and have no recordings as of yet, only a few audience YouTube videos shot when the band was a month old. Sean, whose parents are both teachers, is waiting confidently to hear back from Columbia, Brown and UC Berkeley, and I dearly hope they get into the studio before moving away from Petaluma to attend college.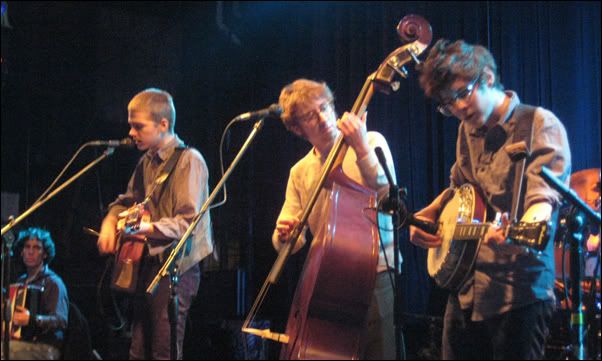 Waters announced that their drummer had surreptitiously fled town to visit someone in Los Angeles he'd met on ChatRoulette, then began playing in the loosest-knit fashion imaginable, and spindled like a nylon rope through a ramshackle, charming set. They, too, are young, in high school, and their unique instrumentation and rudimentary application helps their music to breathe. The air may be dusty where Waters lives, but their lungs are strong.
I have been listening to Waters' demo for a week, which showcases the disciplined framework of the Arcade Fire, the harmonies of Fleet Foxes and the tradition of Old Crow Medicine Show. Whether they have heard these bands is a guess, although some of them admitted to me last week that their cover of "Brazil" was inspired in part by the Arcade Fire's version. More likely, the band throws spaghetti at the wall and occasionally, and unintentionally, hits hallmarks of modern chic.
Their songs range from the anthemic, deep harmony of "Waters," the bright "Sickle Song" and the declarative "Ballad of John the Baptist." I had come to the show ridiculously hoping they might play "On the Origin of a Species," a long, pretty instrumental that probably lives better in the recorded realm than on stage. Second best was "Sun Song," five minutes' worth of folk haze punctuated by a blazing afterthought of a guitar solo.
The guitar solo, incidentally, was played by their cellist; their drummer sometimes plays upright bass, their guitarist sometimes plays drums, their banjoist sometimes plays mandolin, their accordionist sometimes plays trombone, and a xylophone and theremin join the herd on and off. Somehow all of this shuffling coheres, even though the musicians in Waters look like they're thinking about pets, or recipes, or the climate in Zaire instead of playing incredibly unique music. Check them out, and then try to name another band that plays slide ukelele.