First of all, I gotta get something off my chest.
Music festivals, by nature, suck.
Aside from expensive food and no free water and long hours and huge crowds, there's a very important reason to be bummed out on the rampant proliferation of festivals: the music suffers. When you go to a festival, you don't get to see a show. Instead, you see a showcase.
Bands play festivals so they can play in front of a whole bunch of people who would never check them out otherwise. This is great for the band's exposure, and it's the reason why more and more managers send their bands on "festival tours"—that is, driving around from city to city and playing for a bunch of people who aren't their fans. But it's terrible if you are, in fact, a fan.
Once upon a time, festivals were easy to avoid, dominated by horrendous crapola like Phish, String Cheese Incident and Blues Traveler. But there are now more festivals than ever, all across the world. It's gotten to the point where if you want to see a great band, you'll most likely have to suffer through festival hell to do it.
Festivals are like the superstores of music, except without the attraction of cheap prices, and without cheap prices, why would anyone go to superstores? The selection, I guess. Isn't that what festivals provide? A huge selection?
But that, in itself, is another problem. Too many bands. It means that either you have to cough up $85 to help pay for Widespread Panic's guarantee when who you really came to see is Wilco, or else you're running around like a chicken with its head cut off trying to cram in Sharon Jones and K'Naan and Bon Iver, all playing at the same time, missing most of each set but knowing you'd die if you didn't try and Little Brother is on the same time as Broken Social Scene and it sucks because you love them all and god, I'm getting thirsty, why isn't there a drinking fountain around somewhere?
I'm getting all of this out of the way from the get-go, because that's exactly what I have to do in order to enjoy going to something like the Outside Lands Festival. I admit that I am powerless over the immense suckiness of the festival, and I believe that only the chance to see amazing music can restore me to sanity.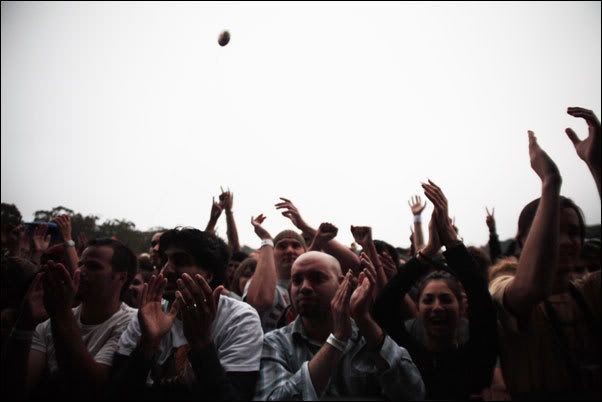 With all that said, I declare the inaugural Outside Lands Festival a success. Those who only went to Friday night's Radiohead show won't agree, but as the weekend progressed, the organizers made key changes, like adding staffers to the ID Check booths and widening the corral between the Polo Fields and Lindley Meadow. As for the sound briefly going out during Radiohead (twice) and Tom Petty (three times), that's notable and all but was it really so bad? Not really. As for it being crowded, what did anyone expect?
By the end of Sunday, I was exhausted but in the best possible way: knowing that I had beaten the festival beast and come away with some irreplaceable experiences.
Top Five Best Bands at Outside Lands:
1. K'Naan
2. The Walkmen
3. Broken Social Scene
4. Radiohead
5. Manu Chao
With honorable mentions going to Lupe Fiasco, Sharon Jones, the Coup, Lyrics Born, and. . . see? When you can't decide, you know it's been a good weekend.
Jump to Outside Lands Festival – Day One.