Here we go: Day Three. If I can survive three-week camping trips, I can survive a three-day festival. I'm getting a little tired, and today is going to be full of the most frenzied running around of all three days, but it's also going to be the most interesting. It's full of lesser-knowns that for the most part I've never seen before, although obviously, I'd much prefer to see them in a dark club instead of a dry field.
This is the day that the festival conception of 'showcase' rather than 'show' is at its most maddening. I see a lot of bands I want to see, but I have to race my ass off to do so.

First up is the Mighty Underdogs, the latest Quannum supergroup with Gift of Gab from Blackalicious and Lateef from Latyrx. When the Latyrx album came out around the same time as the Black Star album, I remember participating in long discussions with friends about who was the greater MC of each collaboration. Mos Def or Talib Kweli? Lyrics Born or Lateef?
At the time, I voted vehemently for Kweli and Lateef. I liked their lyrics, but I'd be kidding if I didn't say I also adored their sense of urgency—both rapped as if something really bad was going to happen, and soon, if we all didn't do something quick. It was the late 1990s.
Lateef has kept his attraction basically intact after all these years. He's still got that same urgent demeanor, if not more so. He's purely at home on stage, to the extent that seeing him walk down the street would be unsettling, almost worrisome, and you'd want to prop a monitor on the sidewalk and hand him a mic just to put him in his natural element. His finest hour, still, is Latyrx, although his overlooked album Ambush isn't much to shake a stick at, either. I'm always rooting for the guy.
Gift of Gab made the defining Quannum album, Nia, and for that alone he will always deserve respect—the lyrics, the conception, the fantasy, the arrangements are all pure brilliance on that record. Live, he's often inclined to rev his vocal chords and scream his way to crescendo, a characteristic tendency which gets tiresome after the second or third go-round. These two things generally balance out to a level medium.
We catch the Mighty Underdogs' last couple songs as they're finishing their set, but from what I can gather, it's basically a semi-interesting reworking of Blackalicious, for whom Lateef was a touring member for years. They're still doing the "speak to me" thing (stale), and the songs are good enough to check out when the album drops but not enough to totally hop on the Miyata and jam down to the store to buy the day it comes out.
These one-time idols, how I wish they'd bounce back and hit the world with bullets again.
On our way over to the Lands End stage, we pass a girl in a bikini and shades, holding a homemade sign: "Got Fungi?"
On my left arm, if you look closely enough, you will be able to make out a scar, created by a relentless safety pin, spelling out the words "Pressure Drop." This is etched into my arm for a very simple reason. To wit: I was obsessed with that song when I was 18. When you're obsessed with a song at the age of 18, it's only natural to pick up something sharp and carve the song into your arm for posterity.
It's also natural, at the age of 18, to think that "Pressure Drop" is a song by the Clash.
I've heard numerous reports of Toots and the Maytals being a phenomenal live act, with Toots Hibbert in particular as an effortlessly gymnastic frontman. That's heartening, considering how old Toots must be these days. All that matters to me is hearing "Pressure Drop."
Toots hits the stage, jumps right in to the opening lines of "Pressure Drop," and everything is great. The crowd goes nuts. Then, in a re-creation of Lupe Fiasco's one-two the day before, he sets it up for his next biggest hit: "Reggay Got Soul."
He's not moving around with any kind of nimble abandon, but he's happy and healthy-looking, and I'm glad that the guy who inspired me to drive a sharp object into my skin all those years ago in tribute is still doing okay. I'm doing okay, too, old friend.
K'naan is a Somalian-born poet and rapper who fled the "lake of blood" district of Mogadishu during the Somalian Civil War. He's also delivered the most gripping hip-hop album this year, The Dusty Foot Philosopher, an autobiographical document of growing up in a warzone and clinging to Nas and Rakim CDs for escape. The record is hip-hop's Graceland: djembe drums, group chants and slit gongs provide the addictively unique texture, while the beat to Dusty Foot's opening track, "Wash it Down," is comprised entirely of feet stomping and sloshing through water. With the metaphor as water for life, the track concludes with the clever poke: "People need water like Kanye need Jesus."
I've had The Dusty Foot Philosopher on a cassette, with Grip Grand's Brokelore on Side B, in the car for the last three months. Grip Grand deserves an entirely separate review on how just completely fucking brilliant his album is; in short, Brokelore makes me feel totally fantastic and full of joy every single time I listen to it, which so far has been about 15 or 20 times and counting.
K'naan's album is no less brilliant, but in a different fashion. I'm not always in the mood to listen to it, but when I am, it's the greatest album in the world. You don't know about weird looks from strangers until you've walked down the street singing about being stabbed by Satan on the day that you were born. Addictive.
Moreover, K'naan's approach to songs is intensely poetic, a gripping sequence of metaphor and connectivity that enhances instead of diminishes the reality of his subject matter. With his vivid descriptions of life in Somalia; of being shot at by police; of seeing military tanks drive down the beach; of clinging to hope against all odds, he's able to find the most effective, if not always the most direct, way of explaining his life thus far.
K'naan comes out on stage with a smile and a double thumbs-up for the dedicated fans who've staked out their front row positions, and goes into "Hoobaale," a soft, undulating chant about waiting for disaster before implementing change. Next is an extended spoken-word poem, seemingly improvised, about coming to America from a tormented country and finding the famed open arms of lady liberty just as crippled. It's the sort of powerful thing that dissipates into thin air as soon as it's over, and I wish that I could have written it all down before it left.
"In the Beginning"—if you're only gonna download one K'naan song, this is it—is amazing, inciting the crowd to put up their fists on the extended bridge and chant along. A newer song, about getting older and feeling stronger, comes next, with the audience providing the chorus. Then K'naan apologizes for his set needing to be cut so short, performs "Soobax," and that's it. Five songs.
Except that's not it. There's no hope of an encore, but there's a buzz in the air that people can't simply walk away from. A gathering of about 20 or 30 people cluster to the side of the stage, and after five minutes or so, K'naan comes out and personally talks to every one of them. Still flabbergasted by his performance, I have no choice but to pull out my notebook and ask for his autograph.
He writes two words. "Justice. K'naan."
Last year, Justin Vernon went into a shed in rural Wisconsin, cleared his head, chopped some wood and recorded nine quiet songs under the name Bon Iver that have since turned just about every indie critic into a drooling, superlative-oozing pile of gush.
I still don't get it.
Sharon Jones—who could have ever predicted that she would be playing a huge stage in front of thousands of people? I've been a fan for a long time, and I've still got some of her early 45s on Daptone. Dap-Dippin' was an alright album, but it was 2005's Naturally that really did the trick for me. Whereas Dap-Dippin' is a lot of James Brown-inspired textbook funk, the songwriting on Naturally takes it over the top into greatness. For a time, it seemed as if the pinnacle of the underground funk revival, which started with Brainfreeze, had finally been achieved. Then Amy Winehouse came along, heisted Jones' backup band, called her album Back to Black, for cryin' out loud, and ran away with the prize.
While Winehouse rots in the tabloids and the UK tries to cough up more blue-eyed soul sensations while their iron is hot, Jones has been getting more attention, and that's a great thing. While I think the songs on her latest album 100 Days, 100 Nights fall short of Naturally's instant magnetism, it's still an important example that newer is not always better, and that fancier recording technology doesn't always mean a better-sounding record. Plus, Jones can sing the hell out of any song in the world.
The Dap-Kings come out and run through a couple instrumental numbers, including "Tighten Up." Everyone's waiting for Jones to hit the stage, and when she does it's like an earthquake. She shimmies, struts, glides and hollers her way through "How Do I Let a Good Man Down." She complains about her legs being shorter than Tina Turner's. She calls out to people in the crowd like they're all distant cousins. It's amazing.
Jones then finds someone in the wings who says his name is Tuesday and starts schooling him in the art of getting down. Singing directly to him, she places his hands on her hips, gyrating in rhythm and instructing him to do the same. It's fantastic theatre, and the band keeps a steady beat throughout it all.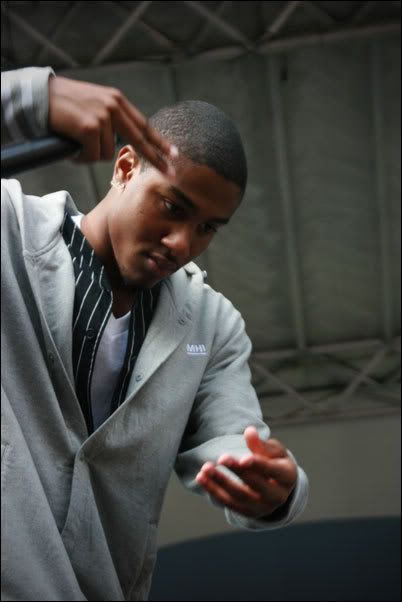 The Cool Kids are a full-on guilty pleasure minus the guilt, a complete throwback to the earliest hip-hop records that I was into when I was twelve years old. I wrote about them back in January, when all they had were two great songs on their MySpace page, likening them to hip-hop's midlife-crisis Porsche and predicting that they'd burn hot for a short while before fading away.
Time will tell what the future holds for the Cool Kids, but it's not like they're concerned about it at all. Fun is the name of their game, and they take turns making fun of each other, or themselves, by saying things like "My beatboxin' ain't very good, I gotta be honest." But their beatboxing is good, and they're on top of their shit, and they rule the Panhandle Stage.
The two songs I catch are "88" and "Black Mags." They sound as great as they did eight months ago—better, in fact. I rescind my prognosis about their short shelf life, and hope that their one foot in the past will equal a brighter future for hip-hop in general.
Broken Social Scene, right from the get-go, is totally likable and awesome. There's nine people on stage and I have no idea which is which until some guy in wrinkled clothes and a trilby hat starts talking about how San Francisco is his favorite city in California. Must be Kevin Drew, I think to myself, who is the sort of ersatz leader of this huge collective.
I haven't seen Broken Social Scene before, but I love, love, love their records. I can't remember the first song they play, because the second one, "KC Accidental," renders all of my memory obliterated, and I scream "fuck yes" and close my eyes and I feel like I'm diving down into a sea of bliss. There's so much activity on stage, and I try to drink it all in while I can.
"7/4 (Shorelines)" brings out Amy Millan from Stars on guest vocals. Emily Haines plays guitar on a lot of songs, and sings much better than Millan. There's a guy who looks like Bigfoot, dressed all in white, on bass, and a guy who looks like Paul Bunyan on guitar. "Anthem for a Seventeen Year Old Girl" and a couple of new solo songs are all good. But it's Kevin Drew, treating the enormous crowd like a regular old group of friends, who steals the show.
"Remember to vote!" he tells the crowd at one point. "Vote for Canada! Vote for every country!"
Near the end of the set, it almost seems like Drew is joking when he makes a special announcement. "Hey, Spiral Stairs is here, everybody! Spiral Stairs!" he says, but sure enough, Spiral Stairs from Pavement walks on stage and straps on a black guitar. I'm hoping for "Lover's Spit"—longshot, I know—but even when the drumsticks click off the tempo, I realize what's happening: the first song from Broken Social Scene, "Ibi Dreams of Pavement (A Better Day)." It's a bonkers title, but man if it isn't a goddamn great song.
So we get the gigantic, epic send-off for the band, and during the breakdown, Drew slips into full-on Springsteen mode. "For all the hurt in your life; for all the hurt you've caused in others' lives; for all the love you feel and for all the love others feel for you. . . scream so your whole entire city can hear you, San Francisco!"
Incredible.
Wilco, who Kevin Drew refers to as "the greatest band in America," comes on next. I've seen Wilco four times, and each time I've liked them less. Jeff Tweedy has seemed grouchier as time has gone on, which I could probably deal with if their new musical approach wasn't so hackneyed.
The last time at the Fillmore, I figured it out. Whereas on Yankee Hotel Foxtrot, the band combined beauty and chaos fluidly and simultaneously, their newer material sequesters the two into awkwardly arranged factions. They'll get a not-very-good breezy sunshiny pop song going for a while, and then they'll let Nels Cline freak out in the middle, and then they go back to the not-very-good breezy sunshiny pop song.
Needless to say, I'm one of many who believe that Being There is their best record.
But Jeff Tweedy actually seems like he's in good spirits, jogging around the stage a little bit during "Hummingbird" and joking with Nels Cline about how his maroon pants are held up by a safety pin. When someone yells "I love you!" he responds with the deadpan zinger, "We love you too, random guy in a massive crowd of people!"
"I am Trying to Break Your Heart" benefits from drastic new textures, and I take a walk through the crowd during "Jesus, Etc."—just about everyone sings along to themselves, quietly. "California Stars," unfortunately, comes a little too early before the nighttime, but lots of people look up at the California sky nonetheless.
Wilco once meant a lot to me, and I have to admit to feeling terrible about our falling out in recent years. I'm glad that they're good tonight. It's been a memorable weekend, and making amends with an old confidante is a nice way to wrap things up.
Photos by Gabe Meline – Lots More Photos After the Jump.
Wilco:


Broken Social Scene:


The Cool Kids:


Sharon Jones and the Dap-Kings: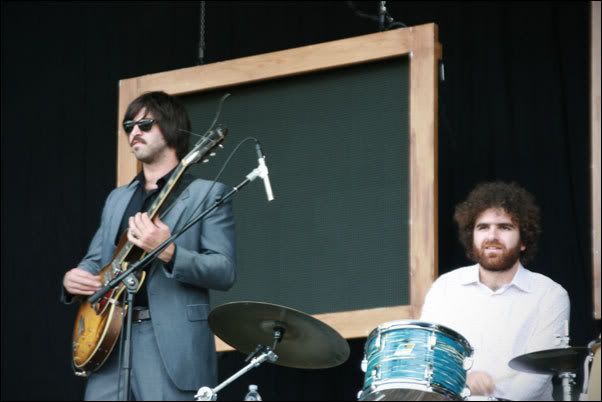 K'naan: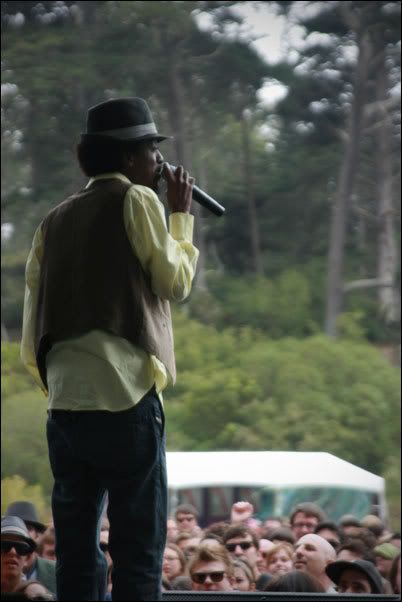 Toots & the Maytals:


Field Shots: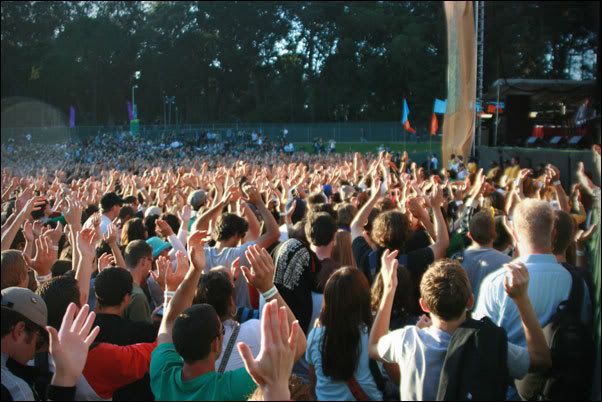 Jump to Outside Lands Festival – Day One.
Jump to Outside Lands Festival – Day Two.