I am a Petaluman Aquarium Drinker! This month, Lagunitas Brewing Co. offers a limited-release beer called 'Wilco Tango Foxtrot,' no doubt inspired by Jeff Tweddy & Co. Check it out: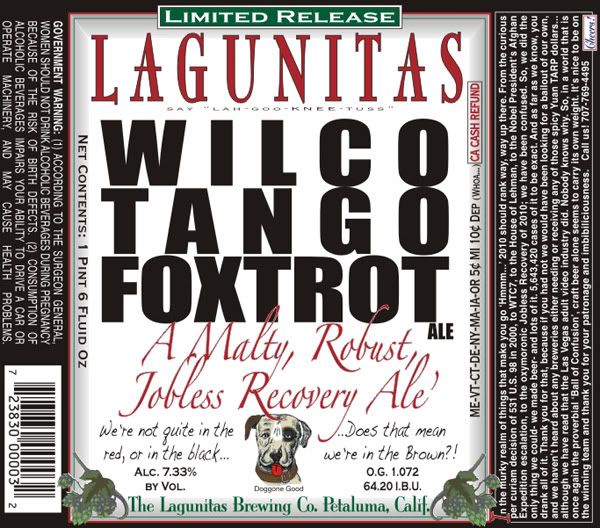 But wait! This in, from Pitchfork:
According to a spokeswoman, the title is derived from the same shortwave radio recording that originally inspired Wilco to call their album Yankee Hotel Foxtrot, as well as the phrase "WTF."
Alas, if the beer were truly inspired by "WTF" in the NATO alphabet, the beer would be called "Whiskey Tango Foxtrot," yes? Obviously they're just keeping on the safe side after the Zappa family pulled the plug on their wonderful, harmless series of Zappa-album-themed ales.
'Wilco Tango Foxtrot' is out sometime in March and according to Lagunitas is "a big ol' Imperial Brown Ale to help you with your slipperly slide on into springtime. Rich, smooth, dangerous & chocolatey." And. . .  7.83% alcohol! Passenger side, indeed!