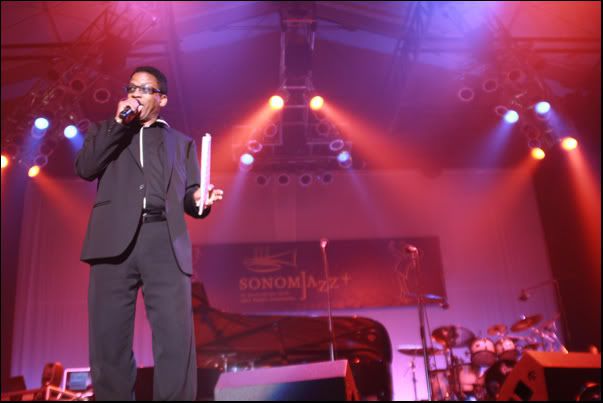 Herbie Hancock is a jazz legend. It's a fact. You can't strip him of it.
At what's billed as a jazz festival, you'd think people would be into Herbie Hancock. But after his first song last night, the Blue Note jazz classic "Cantaloupe Island," an exodus of half-tipsy middle-aged Wine Country dilettantes who've been trained that Michael McDonald is "jazz" filled the aisles and headed to their SUVs.
This, I'd think, might be slightly embarrassing for the Sonoma Jazz+ Festival, who have suffered as many exhortations to simply change their name as Hilary Clinton has to drop out of the primaries. Frankly, I'm overwhelmingly for it. If you're going to represent yourself as a "jazz" festival but then book mostly R&B, blues, or pop acts, you're not only insulting an original American art form but also, I might add, essentially defying a Congressional decree calling for the recognition and preservation of jazz as a rare and valuable national American treasure.
Herbie Hancock, along with Julian Lage and Taylor Eigsti, represents the true jazz minority at this year's festival, and Hancock occupies a decidedly unique place in jazz, however mainstream it may be. Though most of what he's done lately falls into classical or pop realms, he has constantly pushed, in his music, the jazz ideal of exploration and possibility. No amount of Starbucks-friendly collaborations with Corrine Bailey Rae can taint that fact, and in a twisted way, his forays into funk fusion, industrial breakdance music, and other non-jazz idioms actually support it. If jazz is a journey, then Hancock is an overarching participant, straying from the designated path with equal parts vision and experimentation.
Example: while Hancock introduced his second number last night, the equally classic "Watermelon Man," he announced that he and his quintet would tackle it with a few variations. First, they'd incorporate a 17-beat count into the song, based on African music. Second, they'd introduce one extra beat at a time, until they reached 17 beats. Oh, and another thing: they'd bring out a DJ to play turntables on the song.
The exodus continued.

What followed was an entirely creative take on "Watermelon Man," with bassist Marcus Miller holding down the solid groove while Hancock switched from grand piano, to synthesizer, to. . . wait a second. . . a Key-tar?! Yep—Hancock and his harmonica player traded harp and Key-tar licks, the DJ threw in some scratching and the guitarist played wild octave-pedal scales. In its offbeat and original way, it was jazz—and the idea of jazz—at its finest, and to be fair to the crowd, the multitudes of people who stuck around gave him the first of many deserved standing ovations.
A trio of Joni Mitchell songs from Hancock's what-the-hell Grammy Award-winning Album of the Year River: The Joni Letters followed, with vocalists Lizz Wright and Sonya Kitchell delivering stellar versions of "Edith and the Kingpin" and "The River," the latter ending with angelic harmonies between the two. However, Kitchell's take on "All I Want," a breathy, sexy rendition, was a misfire compared to Mitchell's laughing, playful original.
I actually listened to Mitchell's Blue before coming to the show, and "All I Want" is such a great, weird dichotomy of a song—it's full of longing and loneliness, but it's also buoyant and optimistic, like Joni's looking towards the day that she'll be happy, feel free and knit sweaters. As the listener, you think that day could be tomorrow and the sweater she'll knit is just for you. Kitchell sang it instead like there was no hope in sight—just a lot of self-wallowing and bluesy inflection.

Hancock himself played fantastically, but the greater impression left was that of a scientist in a jazz lab, professorially dissecting each number with sheet music in hand and explaining how the quintet would approach each new discovery. Introducing "Jean Pierre," a vehicle for bassist Miller, he even joked about the song's sketchy genesis. "This is a composition by the great Miles Davis," he said, to scattered cheers. "You think Miles wrote it alone? Who knows!" (for further reading on Davis' notorious habit of plagiarizing other's songs, I recommend the book Shades of Blue by Bill Moody).
With Hancock's classic Blue Note era covered by "Canteloupe Island" and "Watermelon Man," with the Headhunters era covered via the encore "Chameleon," and with the pop era covered with the Joni Mitchell songs, there was only one stone left unturned in Hancock's set. I would have never thought he'd play it, not in a million years.
"Are you ready?!" he shouted. "For the first time in 25 years, are. . . you. . . ready?!"
And with that, he strapped on the Key-tar, motioned to the DJ, and led the band in a run-down of the great breakdance jam I used to backspin to when I was nine years old: "Rockit." The crowd erupted. It wasn't exactly jazz, but it felt good, and all egregious festival misnomers aside, that's what any good festival is supposed to offer.