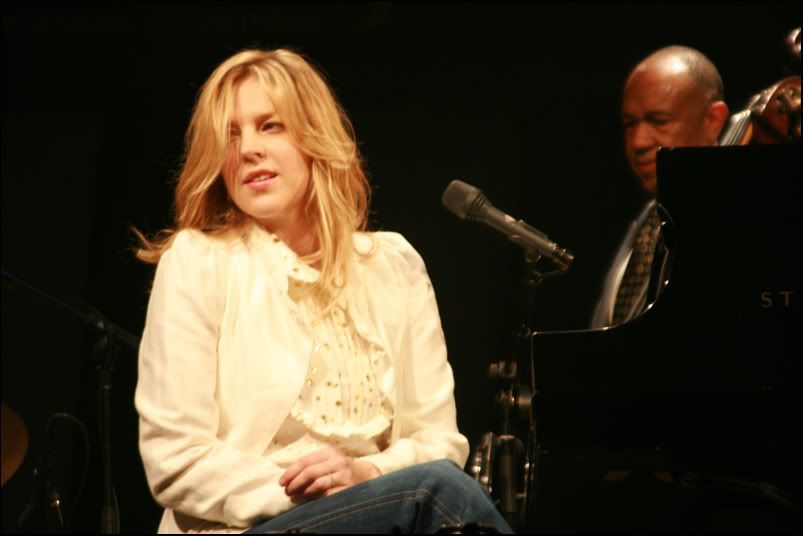 "I'm all pumped up full of steroids," croaked a bronchitis-ridden Diana Krall to a sold-out Sonoma crowd on Saturday night, "so you're gonna have to put up with my shitty piano playing the whole show."
A woman in the audience yelled something about smoking.
"Oh—do you want me to stop talking?" asked Krall. "Is it like nails on a chalkboard. . . or too sexy you can't stand it?"
It speaks volumes about Krall's immense popularity that during an absolutely classic performance in Sonoma, her singing voice never wavered in the slightest—in spite of the fact that Krall's speaking voice, which offered an ongoing stream of self-deprecating quips, sounded more like Edward G. Robinson. One could interpret this either as the resilience of a seasoned vocalist or one of the fringe benefits of having, in Kralls' own words, a "smoky, sultry, cool sound." Bronchitis would level most singers, but for Krall—who along with nighttime film-noir pianist-singers Holly Cole and Patricia Barber rarely, if ever, pushes her vocal chords—it never once hindered the show.
Though Krall acknowledged her bronchitis (announcing and then slipping into a Tom Waits impersonation during "Exactly Like You"), most of the time it worked in her favor. A fading whisper of the word "darling" during a spellbinding solo version of Joni Mitchell's "A Case of You," a particular husk to "The Look of Love"—these touches only added to what she does best.

With a few stride-piano intros—to "Frim Fram Sauce" and "I Don't Know Enough About You"—that faltered greatly in tempo, Krall's piano playing may have been lessened, but not enough to keep her from quoting Charlie Parker songs in solos which played well into her rhythm section's impeccable backing. But it was her descriptions of motherhood and of breastfeeding her two children—she had twins a year and a half ago with Elvis Costello—which truly tickled the mostly middle-aged crowd.
"They're both grown up now," she joked. "They're out in the hotel playing cards and smoking cigars. They look like their dad!" ("I'm sorry!" shouted the woman in front of me.)
At the end of the night, after a practically begged-for encore at the hands of a long standing ovation, Krall had triumphed. She even cast aside her sad, tortured persona for a split second—at the end of the bowed bass solos, sharp rim shots and dazzling guitar lines during the night's closer "Gee Baby, Ain't I Good to You," the 43-year-old mother squirmed on the piano bench, opened her mouth, and squealed like a little girl.
Photos and set list below. ————————————–
Set List:
I Love Being Here With You
Let's Fall in Love
The Look of Love
'Deed I Do
I'll String Along With You
Exactly Like You
Frim Fram Sauce
I've Got You Under My Skin
A Case of You
Devil May Care
I Don't Know Enough About You
–
Gee Baby, Ain't I Good To You