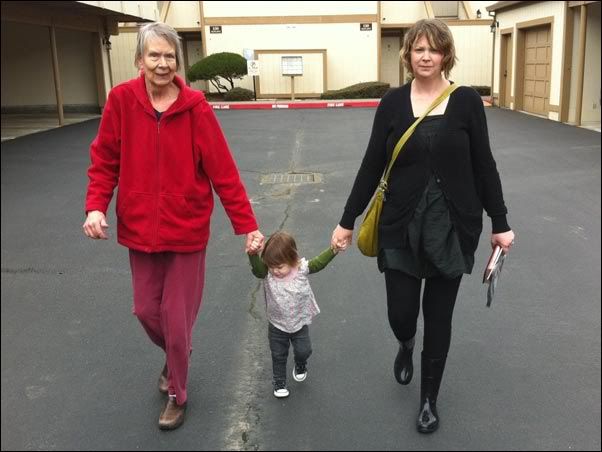 Yes, it's been a while, hasn't it? I feel like I should explain.
A month and a half ago, my wife's mother collapsed at work. Later, at the hospital, they found multiple tumors—inoperable. She stayed in her hospital room for a few more days, and then she went home, where it was our job to stay with her full-time to make her as comfortable as possible while the cancer took its toll.
I cleared almost everything off my slate, including this blog, in order to take care of things. Now that she's gone, I'm very, very glad I spent my evenings holding her hand and listening to Iris DeMent's Infamous Angel with her instead of sitting in my boxers and blogging about festival lineups. Five years ago, when my own mom died suddenly, I didn't get that chance. So with Susan, I cherished sitting on the bed and eating chocolate shakes with her; listening to tapes she liked, like the O Brother Where Art Thou? soundtrack; letting her granddaughter kiss her hands and play with her necklaces; running my hands through her thinning hair; reminding her to drink water; and at least once a day or so, reminding her how wonderful she was.
She died yesterday. I drove there to say goodbye, and then the people from the mortuary came and took her away. We spent the rest of the day handling some things, and then walking around downtown, and then talking and talking and talking and talking. Susan Seward—riding high in April, shot down in May—raised four kids, lived on The Farm in Tennessee, worked at the Petaluma Library for 25 years and didn't deserve any of this.
I'll be back in business here, and playing catch-up. Thanks for waiting.