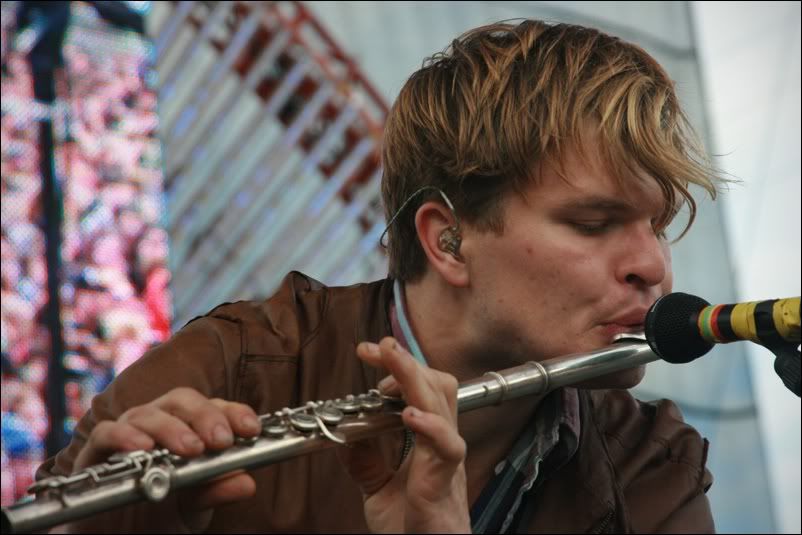 Ah, the things you don't get from other festivals. Hearing people on the shuttle bus talk about the night before and how much they drank. About the game of Scrabble that lasted until 2:30am and the crackhead sleeping in the hall. About how they'd love to move but their rent is low. "I'll only move if I can buy a house, or get married," says a woman pushing 40, "and neither is going to happen very soon." She's good looking. More talking. About how nice the shuttles are. "Grizzly Bear's pretty cool," says someone, to his girlfriend. "They're like a mix of… of Yo La Tengo, and the Walkmen, and the Flaming Lips." Amazing how his frame of reference encompasses today's lineup.
I have written about the Treasure Island Festival time and time and time and time and time and time again. By now, it is a good friend and a bottle of pills: comforting, scenic and dependable, with enough variety and excitement for me to keep singing its praises. Word has obviously caught on, because this year's festival, with a somewhat weak lineup, was the best attended yet. Both days were sold out.
Contrary to what you might overhear on the shuttle to the island, Grizzly Bear doesn't sound anything like Yo La Tengo, the Walkmen or the Flaming Lips. Their new album, Veckatimest—the first time I heard it, I couldn't believe I was enjoying it. (I regularly root for the "rock" contingent of "indie rock," not the increasingly visible four-part harmony infiltration of indie rock.) There's a prodding, experimental aspect to their compositions that I can't let go of. "Two Weeks" may have been the summer hit, but give me long, intricate songs like "Fine for Now," whose lyrics are a bunch of vague bullshit but whose music is sheer beauty.
They opened with the Talking Heads' "Warning Sign" "Cheerleader," and played a brief set heavy on Veckatimest material, replicating almost exactly the precise tone and instrumentation of the album. Singer Ed Droste attempted to have some personality between songs, and failed, but their songs gave off a polished classicism that hid their complexity. What the hell were they doing playing so early, at 4pm?
One more reason to like Grizzly Bear: their website—and Droste's Twitter feed—mentions whenever possible the options for buying tickets to the band's shows without a shitty service charge. Also, my friend Kerri points out that Veckatimest is an anagram for Meat Vest? Ick! Luckily, their heads didn't explode in the middle of "Two Weeks."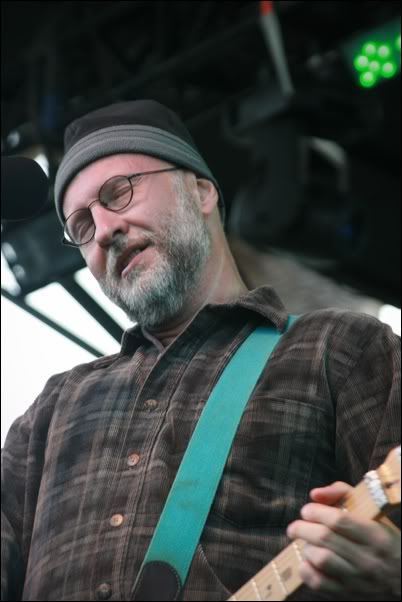 I spoke too soon when I said something about Bob Mould lulling nostalgia hounds to sleep. Assuming Mould would play songs from his recent solo albums, I headed to the bathrooms, only to be pulled back by "The Act We Act," the first song from Sugar's Copper Blue. In fact, Mould represented Copper Blue hardcore. "A Good Idea," "Changes," "Hoover Dam"—was this for real?
It was a genuine stroke of luck. Mould's regular bassist couldn't make the show, so at the last minute he called up David Barbe, the bassist for Sugar, and throughout the set many, many nights in 1994 came rushing back to me. Yes! It was nostalgia! But of the entirely unexpected variety. Oh, sure, Husker Du fans got "Makes No Sense at All," "In a Free World," "Something I Learned Today"—but who'd'a thunk Mould would rock the Sugar songs so hard? It was like Prince playing a show of all shit from Graffiti Bridge.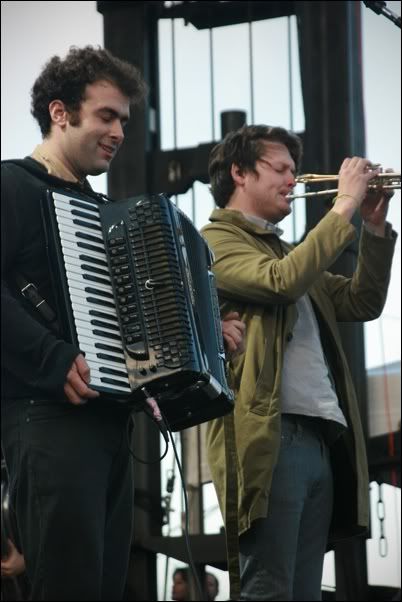 I've never gotten into their Eastern European brass tip, but Beirut makes me glad for one reason and one reason only—because of their unlikely success, the independent San Francisco distributor Revolver is able to take more chances getting good, otherwise unheard music into stores. The plight of an independent distributor is a lonely one, and Revolver over the years has seen a ton of exclusive deals with labels and artists who decide they can do better with R.E.D. or Caroline and jump ship, leaving their early supporter in the dirt. When I see "Exclusively Distributed by Revolver USA" on the back of a hugely selling album like Gulag Orkestar, I am heartened for the DiCristina Stair Builders.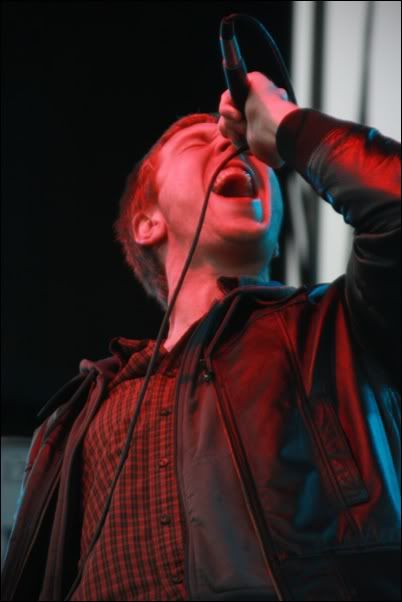 The Walkmen have the East Coast written all over them; they fuckin' rule. What was decided at their first band practice? "Look, you guys, we're gonna get vintage instruments and play them like nobody else played them. You, Hamilton, you gotta good voice, you're the singer. Okay? But we gotta look tough. Or bored. Somewhere between tough or bored. Then we gonna write the best songs you ever heard."
Bows and Arrows is a bonafide gem, and at the Outside Lands festival last year, even newer songs like "The New Year" floored me. I hope that they don't turn into the Guadalcanal Diary of their day, i.e. a band with a fresh semi-retroish take on current trends who fades into Rockin' Road Trip obscurity. More songs like "Thinking of a Dream I Had" ought to do the trick.
I ran into Hamilton Leithauser afterward; he told me the horn players—who were tight as hell—learned their parts five minutes before going on stage. Funny thing, going on tour and having to hire pickup musicians in each town.
The greatest psychedelic guitar work recorded in 1997 (not related to Jason Pierce) belongs to Yo La Tengo and the outro to the song "We're an American Band" from I Can Hear The Heart Beating As One. I have listened to this particular guitar solo more times than I care to remember, and I still haven't fully figured it out—meaning that I haven't tried to PLAY the thing, merely to comprehend it. Is there a ghost of an angry debutante inside the guitar? Did they bring an octopus in the studio to flail upon the strings? Can you keep feedback alive on an iron lung?
During Yo La Tengo's second song, Ira Kaplan re-creates that same mayhem five feet from my face and I still can't make heads or tails of it. I do know that what he did to his guitar didn't constitute the accepted definition of "playing." He sometimes put his fingers on the strings, just like he sometimes let it swing away from his body entirely to let the angry debutante do her thing. Maximized control in chaos environments. Rhythm section calm and holding. Snapped back together like elastic. Amazing.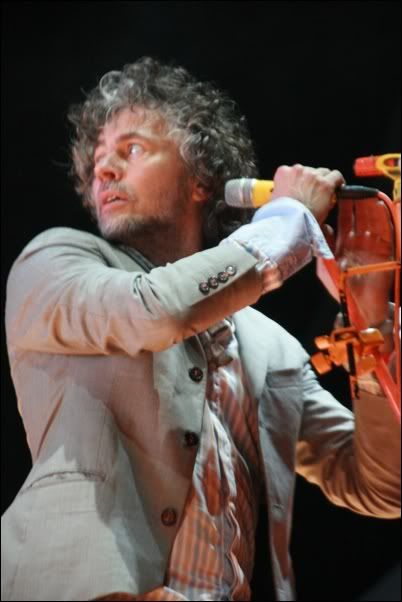 The Flaming Lips have put out a new album, Embryonic, that reminds me of the Nobel Peace Prize—it's getting a lot of acclaim simply for not being At War With the Mystics. If it could be chopped down to an EP, it would be perfect, but better yet is that it has shaken up the band's live show, which though visually incredible has stayed pretty routine for about five years. I've seen them three times, and I swore that if Wayne Coyne smashed blood on his head and made a puppet nun sing "Happy Birthday" into a fisheye-lens camera yet again, I would scream.
As soon as the Decemberists finished, Coyne spent a good deal of time onstage helping his roadies set up their ever-more elaborate set. Then the music began. After walking atop the crowd in a plastic space bubble, shooting confetti from blaster guns, blowing fog around the stage, flinging ribbons to and fro and leading his band in "Race for the Prize," Coyne settled into a friendly rapport with the San Francisco crowd, talking about the band's first show at the I-Beam and how San Francisco had always felt like a second home. "Thank you for being the home of the freaks," he said.
The band played a standard mix of "hits," with new tracks like "Convinced of the Hex" sounding the most invigorated, but it was an obscure song called "Enthusiasm for Life Defeats Existential Fear" that reminded me most of the Flaming Lips' magic. Musically settled squarely between soothing and weird, the song's title alone could serve as the band's mission statement, and it carried us across the Bay Bridge and back into the real world.