Music & Morsels: The Romance of the Violin
February 3 @ 1:00 pm

-

2:00 pm
Bring dessert/coffee or cocktail/nosh and take a front-row seat for a beautiful & interesting, live musical recital with insights and Q&A.
Music & Morsels: The Romance of the Violin
Wednesday, February 3
1-2:00pm (PST), 2-3:00pm (MST), 3-4:00pm (CST), 4-5:00pm (EST)
on Zoom
Pianist Ian Scarfe brings another program of classical music and discussion, this time featuring Bay Area violinist Philip Brezina. The duo will present works from their new recorded CD "Violin Romances," including works by Beethoven, Tchaikovsky, Sibelius, and more!
Program:
Beethoven, Romance in F Major
Tchaikovsky, Melodie for Violin and Orchestra
Sibelius, Romance, Op. 78
Bolcom, The Graceful Ghost
Ysaye, Reve d'Enfant
After the program, stay for some live Q&A with our guest artists!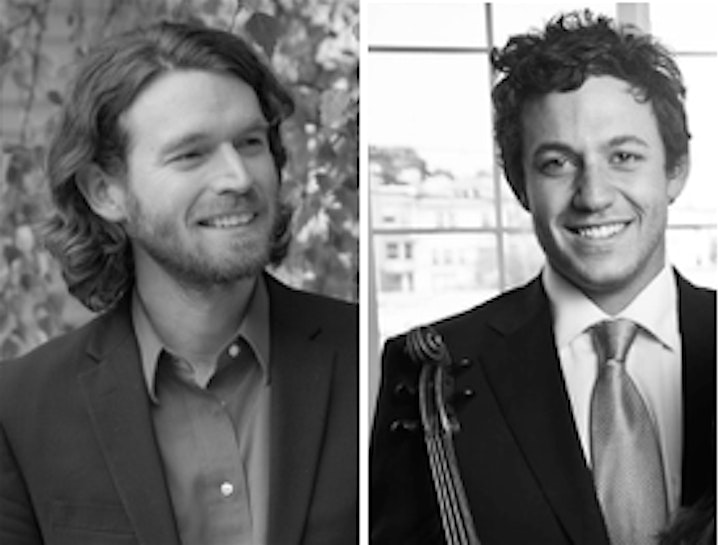 About Our Artists
Ian Scarfe enjoys a wide-ranging career as an advocate for music. Initially following directions to become a piano soloist, he quickly discovered the joys of diversifying his work. As a performer he is equally comfortable as a soloist, accompanying recital partners, or in the mix of a small or large ensemble. As a speaker, he is a frequent lecturer during formal concerts, a host and emcee during casual musical events, and also a narrator to children's programs. As a musical entrepreneur, he keeps a busy travel schedule across the United States and Europe organizing concerts, tours, and festivals.
Philip Brezina is an amazingly versatile violinist performing internationally in venues from classical concert halls to alt music clubs. From Kennedy Center to the 9:30 Club, Philip expresses his love for classical, bluegrass, and world music in such varied ensembles as Musical Arts Quintet, Santa Cruz Chamber Players, one found sound, and The Brothers Comatose. His television credits include the VH1 Storytellers series. Having performed for a time with the Sinfonia Galicia (Spain), Philip currently serves as principal second in the San José Chamber Orchestra. A chamber musician at heart, Philip looks for inspiration in all musical settings and around campfires, as he believes these experiences are essential to understanding music beyond the practice room.

Tickets & Notes:
"Early Bird" Ticket: $8; available until 48-hours prior to the performance.
"Regular" Tickets: $15; available until 15-mins prior to the performance.
All tickets are 1) are per device, not per person on Zoom, and 2) are non-refundable & non-exchangeable.
The Fine Print:
Fortunately, we've had very few issues, but just to be clear…
Getting Your Zoom "Event Link": The Zoom event link will be sent to all registrants automatically upon registration. To help it land in your "inbox," before registering, please add the following emails to your contacts:
Registrants are requested to make sure the email with the link has arrived within 30-minutes of registration. If the email does not arrive, please see "Troubleshooting" below.
The email w/link will be re-sent to all registrants about 2-hours prior to the event. (NB: However, if it landed somewhere other than in your inbox upon registration, it will probably do the same later.)
Troubleshooting: We will do our best to remedy any issues. Ticket buyers who have NOT received the email with the Zoom event link are asked to check their email "junk" and "spam" folders. If found, it is recommended to move the email to the inbox. If the email/link is still not there, please contact James (see below) immediately.
Late Troubleshooting: We will try our best to – but cannot guarantee – help with Zoom event registration/links to guests contacting James less than 2-hours prior to the performance.
Live Only: In agreement with our guest artists, special guests, etc., events are not recorded. Credit/refund is not given for missed events.
Liability: While we will do our best to remedy any issues, The Osher Marin JCC & its Program Partners cannot be held responsible for 1) issues related to Eventbrite or Zoom, 2) ticket buyers not following the instructions above.
Don't ya just hate "the fine print?!!"
Questions? Email James at [email protected]

Music & Morsels is created by the Osher Marin JCC (San Rafael, CA) and offered by the National JCC Adult & Senior Alliance. See below for a full list of Alliance Partners.
ALL ARE WELCOME to join in our activities! JCC members, non-members, those who live near or far, people of all backgrounds, faiths, ethnicities, hair styles, fashion choices, chocolate preferences, etc. "The more the merrier!"